Name: Annie Gillette
From: Bozeman, Montana
Grade: 13
School: Montana State University
Votes: 0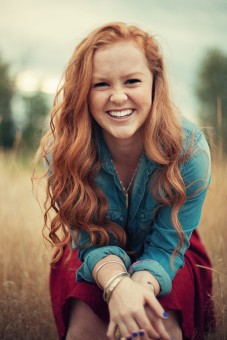 Paying
it Forward
The majority of my volunteer time throughout high school and college has been within the
pediatric cancer community. I have often found myself striving to
make a difference in the lives of families affected by cancer. My
main connection with these people was a little boy that I babysit who
was diagnosed with stage four Neuroblastoma when he was four years
old. Through this little boy and his family, I was lucky enough to
meet many other families who have been affected by this disease.
These families have had the biggest impact on my life in so many
ways, and it became a big goal of mine to do what I could to support
them.
Over the years, I have spent countless hours working towards my goals within the cancer
community. These hours were often made up of very different tasks,
depending on what the goal was. This ranged from working at blood
drives to selling my photography to raise money. I was most closely
associated with a few local organizations that provide financial and
emotional support to local families dealing with the hardships and
costs of a cancer diagnosis.
One of my favorite ways to help was by using my photography. This often
meant that I got to photograph marathons or special events used to
raise money towards research. Through this, I was able to really get
to know some wonderful people, and even provide families with some of
the last photographs that they had of their children. As difficult
and sad as that was, it was also one of the most rewarding aspects.
Photography also led me in to becoming a Gold Hope Photographer,
providing free photo shoots to families who are fighting cancer. I
hold a lot of value in having pictures of the people that I love, and
truly enjoy being able to give that to these families.

Since I have been in college, I have been so fortunate in finding
many more opportunities to help out in the world of cancer. This
included head shaving events, races, fundraisers, and more. It is
opportunities like this that have shaped some of my most wonderful
moments in life. It is a truly great feeling to think about how much
money has been raised for this community, with just a little bit of
effort. This was a huge lesson for me in that you do not need to do
much to have a huge impact; you just have to take that first step. I
have been so blessed to know some truly brave, strong, kindhearted
children who have gone through so much more than any body should. I
have seen them beat the odds and I have seen them lose their battles,
and through all of this I have learned how truly important it is to
love others with all that you have got. You never know what tomorrow
is going to bring, so make every moment count, and spend your days
with joy in your heart.