Name: Shakari A'zhanay Robinson
From: Boca Raton, Florida
Grade: High School Senior
School: Florida Atlantic University
Votes: 0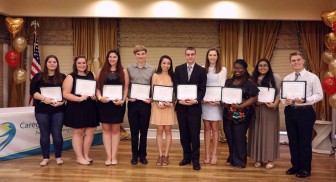 When I was younger, my mother and younger sister would travel to
visit my great-grandmother. At that time, my great-grandmother had
grown too old to perform simple tasks, such as using the restroom or
feeding herself. That was when my sister and I would step in to help.
For about five years, whenever I would go to visit, it was mine and
my sister's job to keep our great-grandmother fed, clean and
accompanied. Unfortunately, in 2005, my great-grandmother passed
away. For a while, I could not understand why God would take her away
and cause my family so much pain. As I got older, I realized that I
needed to be thankful for the time that I was lucky enough to spend
with my great-grandma, instead of being negative. When I attended
high school, it was then that I had the realization that my love for
taking care of my great-grandma did not have to end. Right around the
corner from the school I was attending, was an assisted living
facility. It was then that I decided to apply to be a volunteer. I
decided to do it for my great-grandma, because since I could no
longer care for her, I could do it for someone that may have needed
it. Volunteering taught me a major life lesson; everyone needs
someone.
Due to the fact that I also had a job at the time, I could not
volunteer every day, or for long hours. However, I attended whenever
I could, which resulted in my volunteering hours averaging about
eight to ten hours a week at the least. As a volunteer, it was my
duty to enrich the lives of the residents. Together, we would make
arts and crafts (the residents would later use them to decorate their
rooms), do sing-alongs to classic songs, or even play card/board
games. Volunteering was and still is such a great experience for me
because in each and every resident I encounter, I know that my
great-grandmother lives on inside them. I would have to say that as a
volunteer at an assisted living facility, one may encounter a
multitude of challenges. For me, it was hard saying goodbye to my
fellow friends that I made, and not knowing if I could come in the
next day or not, and for how long. Also, being that I worked around
many memory care patients, I would never know if they would recognize
me or not. In some instances, I was thought to be a past lover or
child of theirs. Nevertheless, I made the best of each experience.
If I were to come back in the near or distant future, I would know
that my activities had a lasting impact. Since I started
volunteering, I have spread the word to my friends to come
work/volunteer, and they have done the same with their peers. With
more youth caring for our elderly, we are creating a better
environment for us all, and that is what forward looking means.