Name: Jaylan Eugene Paige
From: Siler City, North Carolina
Grade: 11
School: Jordan Matthews High
Votes: 0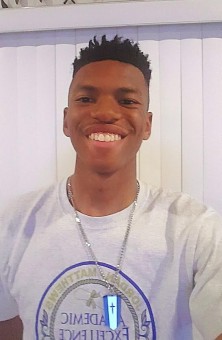 I frequently volunteer with the Youth Department of my home church,
Lambert's Chapel Baptist Church in Siler City, North Carolina. The
Department is involved in a wide array of activities which include
volunteering at soup kitchens, singing at retirement homes,
conducting canned food drives, and visiting the sick and shut-in. Due
to school obligations during the school year and work obligations
during the summer, I regularly volunteer on weekends adding up to in
between fifteen and twenty hours a month of volunteer time. My
responsibilities vary between different volunteer positions. At the
soup kitchen I spend half my time distributing food to the needy, and
the other half cleaning the dirty dishes and wiping down tables. At
canned food drives I am responsible for making flyers and posting
information about the drive on our Facebook page to spread the word.
So far my biggest challenge from volunteering is having patience with
people who are impatient and disrespectful. For instance, while I was
volunteering at the soup kitchen, there was a woman waiting in line
to be served who constantly ridiculed the staff for being "too
slow". She even went as far to say "Is this all the food ya'll
got?" Immediately I gave her a look of disgust and thought to
myself that all the staff was there on their own accord. We
sacrificed time out of our day so that people in need can at least
have hot meal in their times of trouble. At the end of the day my
supervisor told me that it is our duty as Christians and as human
beings to help our neighbor whenever he/she is in need. Just because
on person may not appreciate our work, doesn't mean no one else
does. What he told me made me remember why I volunteer. I volunteer
because somewhere down the line someone volunteered so that I could
have the life I have today. Civil rights leaders such as MLK, Malcom
X, Harry Hay, Susan B. Anthony, Nelson Mandela, Jesse Jackson, and
millions of protesters and petitioners volunteered their time so that
all people, people of color and without color, could have the same
opportunities in life. Our veterans, both alive and dead, volunteered
their service in the military so that our people may prosper. To me,
volunteering is way for me to give back to the people of yesterday
and secure the future of the people of tomorrow.

My volunteering has taught me to be humble. From the soup kitchens to
the canned food drives I've seen people of different backgrounds
and languages who have far less than I do. My experiences made me
realize that even the smallest things like having a toothbrush or
flipping on a light switch is truly a blessing.