Name: Thomas Licato
From: South Plainfield, New Jersey
Grade: Junior
School: South Plainfield High School
Votes: 0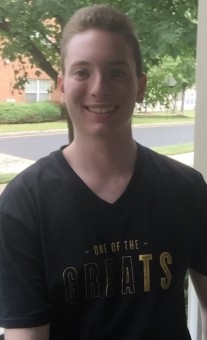 When I was just 12 years old I was taught many important lessons. Maybe
the most important is that you can look at a glass as half full or
half empty. So when I was told that year that I was born with
Tourette Syndrome (or TS, a disorder characterized by uncontrollable
movements and sounds called tics), I chose to look at the glass as
half full; and eventually I learned to see it as a gift through
volunteering for the New Jersey Center for Tourette Syndrome and
Associated Disorders Inc. (or NJCTS).
After being trained as an advocate for Tourette Syndrome, I went on to
speak at schools and hospitals across the state of New Jersey. I
present to students the basic information they should know about TS.
The main lesson of the presentation is to teach students that we
shouldn't make fun of someone for being different, in the hopes to
prevent bullying for people with TS and maybe even without. In
addition, I tell my personal experiences to residents and physicians
to help them better treat Tourette Syndrome. In these two areas of
advocacy I have spent over 18 hours of volunteering in the past 3
years. On top of that I have run my own fundraisers to support the
organization, appeared on an ABC special, met with congressmen, and
also acted as a Co-Chair for an awareness walk.
My
job in each situation was to spread awareness of TS and advocate for
myself and others with the disorder. It is a mission that I take very
seriously. I was once bullied for TS and told I belonged in a cage.
It took someone from NJCTS educating my school to end the torture of
everyday school. I learned that day that I wanted to be the one to do
that for another kid with TS. I hope to change the perception of
Americans when it comes to TS and any difference between people in
society; and in the process make life better for people with TS so
they don't go through what I went through. The biggest struggle is
to balance volunteer work, with school work, and choir rehearsal.
Through this I learned to balance my time and my commitments.
Through my experiences as a volunteer, I've learned to be an advocate, to
be a leader, and to be and accept uniqueness in myself and others. My
greatest reward is when I can help kids see that they should never
make fun of someone for being different or help take some of the
torment out of a TS kid's life. I know in ten years' time I will
look back and know that I have at least helped or impacted one person
and they will continue the mission. And in that time I hoped to have
combined my love for TS and my love for music into a career treating
TS patients through Music Therapy and change lives in yet another
way.