Name: Ariah Johnson
From: Kissimmee, Florida
Grade: 12
School: Poinciana High School
Votes: 1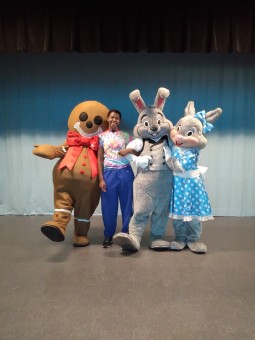 The
Village of Wishes
Give Kids the World is a non-profit organization that provides a one-week,
all-expense-paid vacation for children with life threatening
illnesses. The purpose of GKTW is to provide "wish children" with
one last wish. I understand that having a child with a serious
illness bores stress and often sadness. The service that I provide
injects a bit of happiness into the children and even their parents.
I volunteer roughly 10 hours a month at the village doing food
deliveries, preparing for various events, and sometimes having simple
conversations with the families. Our main goal is to have the entire
family feeling like royalty (because we have a castle too!).
A challenge that I face at Give Kids the World is keeping my emotions
at bay while hearing someone tell me "they're going to die."
Although it's reality, I try my best not to focus on how short a
child's life may be and instead focus on helping them enjoy their
time alive. I'll never forget the time an older wish child
nonchalantly said "I've been here before, especially more now
that I'm dying." That short conversation was a reality check for
me to keep how I feel out of the equation because what matters is how
they feel.

The wish-granting aspect of GKTW emits a self-satisfaction like no other.
Each child gets one wish granted regardless of what it takes. Stories
about wishes that were granted flow throughout the village like a
home-run ball hit off the bat of Evan Longoria. I once heard a story
about a young boy who loved baseball. A volunteer at the village was
able to get not only tickets to a Tampa Bay game, but a personal
meeting with each of the players. The young boy received two
baseballs signed by the team. Unfortunately, the boy passed away 2
months later. The time these children spend at Give Kids the World is
so important to me because they are here one minute and gone the
next. Knowing that I could one day make something this great happen
to a wish child grants satisfaction at what I've done so far. From
these experiences I've learned that there's so much more to life
than the problems we face. What matters is how we help each other
deal with those problems.

My overall experience with Give Kids the World keeps me involved with children with all types of
illnesses, exposing me to the many possibilities of medicine.
Volunteering here will help me be a better care professional because
I hear horror stories about families' impression of their child's
doctors. Decades from now I know my volunteer activities would have
made a difference because there will be one child who will say "I'm
coming back here to volunteer because she did this for me," and
that's what counts. A smile or a laugh shared between two people
from different parts of the world, even if only in the mind.