Name: Taiki Matsuda
From: Rolling Hills Estates, California
Grade: 11th grade
School: Palos Verdes Peninsula High School
Votes: 0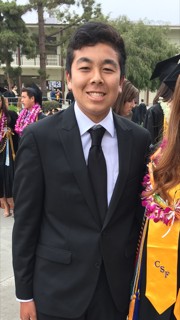 "He who plants a tree, plants a hope." – Lucy Larcom. The area in which I
have chosen to volunteer in is habitat rehabilitation. I have chosen
this area because I see it to be my duty to give back to the land
that allows for life to prosper. I volunteer about 3 to 6 hours a
month through the school year but much more during summer. I have the
honor to have the role "team leader" in the local organization.
My job is to instruct, help, oversee volunteers as they plant, water
and clean out local planting sites as well as performing those tasks
on my own. My biggest challenge has been to keep on going and not
giving up. Working outside for consecutive hours while the hot sun
beats down on you proves to be very difficult at times to work in and
not call it quits.
"I didn't say it was going to easy, I said it was going to be worth it"
–anonymous. The end of each work day gives me the most
satisfaction. Seeing the various planting sites clear of weeds and
garbage, and twinkling under the sun after a healthy watering makes
it all worth it for me. Also knowing that I am giving back to the
community and helping ecosystems flourish is an added factor in what
brings me satisfaction. I have learned many things from my leadership
position, but the one thing that I hold closet to my heart is that no
matter how busy you are, everyone has time to give back. On the
weekends I see many bosses, executives, and other busy people come
through to volunteer. This motivates me because if even these
important people have the time to volunteer, then I have no excuse to
miss a weekend to give back to the land.
My career goals and aspirations do not align with the volunteering I do. This is
seemingly true because I want to be a pilot when I grow up. With that
said, what does matchup between my career plans and the volunteering
I do is that in both cases I preform a service. By volunteering I
preform a service to the land by replanting plants and a professional
pilot provides a service to the people trying to get from place to
place. My volunteering is "forward looking" because we, as an
organization, plant for the future. We plant so that in the years to
come, the planting sites will flourish with wildlife like it once did
before. To me, "forward looking" means to work for the future and
the betterment of tomorrow.
The changes I hope to foster via my volunteer activities are to preserve our
planet. We are wasting the resources of our planet little by little
and I hope that my volunteer activities and others like it provoke
change in how we treat our planet. I feel that in years to come, I
will have "made a difference" because I plant for tomorrow.
Word Count: 499