Name: Elizabeth Ramsamooj
From: Wesley Chapel , Florida
Grade: 12
School: New College of Florida
Votes: 10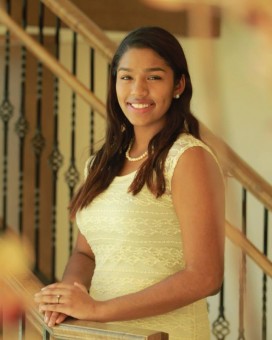 To quote one of the most profound social activists, Gandhi, "The best way to
find yourself is to lose yourself in the service of others. "As a
young, Caribbean American woman, I have made an impact in my
community through utilizing my inner strengths, my weaknesses, and my
intersectionality, to help others. Like most young adults my age,
volunteerism initially came as a requirement. However, as I realized
the impact that my actions had within my school and my community, I
grew to love and soon dedicated myself to volunteering, especially
through programs which exemplify the importance of youth empowerment
and involvement.
My sophomore year in high school I became involved in a district
initiative, "Together We Stand". Together We Stand is an
initiative with the goal of addressing the issue of bullying in Pasco
county. It grew to do even more then that and has led to a drop of
67% in the rate of bullying incidents. Wanting to be involved came
from the urge to make school a place for students to feel inclusive
and safe. As a leader, I facilitated the youth-adult communication.
As Together We Stand continues to grow, I see young leaders who will
continue its mission. To see my work come to fruition makes me feel
entrusted about the future. In addition, I am involved in the "Youth
community action team" program by Sunrise in Dade City, Florida.
With YCAT, I participated as a facilitator for programs that make
youth aware of social change and issues.
As a graduate I was awarded recognition of volunteer distinction by
having dedicated over 1000 hours to volunteering. Through
volunteering, I learned many lessons and acquired a copious amount of
knowledge. My biggest challenge as a volunteer would have to be not
being able to do as much as I would like to due to resource or time
constraints. My biggest satisfaction from the work that I have done
is seeing results and knowing that my actions are something bigger
than myself and can make for a better tomorrow. I have learned from
my volunteer positions that no matter how small or how large an act
can be, there is something to gain both to oneself and the effect
upon others. As a wise teacher of mine would always quote "You
can't be still on a moving train." It is the responsibility of
today's youth to speak out against injustice to build a better
tomorrow, and to realize the power in their actions.