Name: Joseph Javis Doctor-Pinkney
From: Poughkeepsie, New York
Grade: Senior
School: Marist College
Votes: 1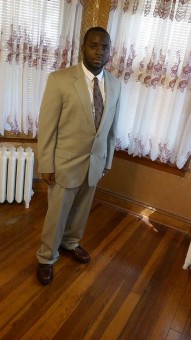 When I was younger. I thought working for free was outrageous and did not
see the importance of helping the individual. As I got older, I
realized volunteering was more than money and about helping others in
need. Now that I am little older I realize that volunteering goes
even further than that but it is a statement that reflects what cause
you are passionate about supporting.
The last year has been a spiritual journey for me where I have learned a
lot in the process of being saved. Each time I get a pay check I
take ten percent of the check and give it to God faithfully. This
act has molded me.
Last summer I attended an online class dedicated to black wealth building.
One of the principles of the class was about contribution. The idea
was to take a black business and donate 5 to 10 percent of my
paycheck to that business. I volunteered to give five percent of my
bi-weekly paycheck to a Precision Beauty.
Precision Beauty is a beauty salon on the busiest street in Poughkeepsie. Main
street is home to a variety of people. It is somewhat like the
melting pot of the city. It has different nationalities and shades
of people and unfortunately it also has its share of crime like drug
dealing, drug using, and even shoot outs. I usually walk there
after class on Wednesday nights because it's the only time I have
to bring my appreciation.
One of the principles that I learned from tithing is that giving money is
giving part of yourself. I learned that it is a sacrifice and a part
of worship. Giving my money freely to Precision Beauty is a
sacrifice I am willing to make for my community. I work between 12
and 20 hours a week part-time at Old Navy. Yes I get paid, but I
freely give my money to this black business without purchase of any
products because I want them to know they have my support.
The key is planting seeds so that in a twenty to thirty years time period
their business can be passed down to their children in the next
generation, so their children don't have to start over completely.
My contribution is small but holds more of a moral symbol. By
giving piece of myself I am helping the owner employ more black
employees and feed their immediate family. That's what "forward
thinking" means to me. Making a way for the next generation.
Making sacrifices for the future.
I believe that as I begin to branch out and start a business of my own
I will have relationship and a connection with someone experienced in
the field of being an entrepreneur. Just having dialog about the
topic (putting my money where my mouth is doesn't hurt either)
inspires the owner an employees to replicate the action and thus
spread a mass of black wealth in a world where black economic
stability is constantly in jeopardy