Name: Willow Marie Lunn
From: Lockport, New York
Grade: 11th
School: Starpoint High School
Votes: 0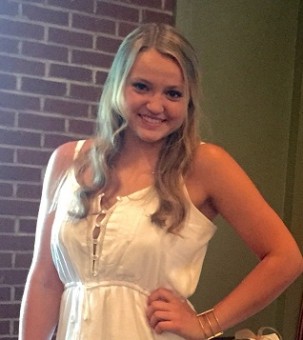 Put
Your Jersey On
Forward looking means think ahead. What we all do today makes a difference
tomorrow. Using my talents and opportunities to give back are at the
core of who I am. I have been fortunate to volunteer for years at
some amazing places; singing at church, joining adopt a family
programs that help underprivileged children, donating blood, and
being a Link Crew Leader for freshmen are just a few. All of these
have been rewarding, however, out of all my volunteering, I am most
proud of the one that I have done the least; Unified Basketball. The
least… because it was brand new to my high school this spring and I
didn't hesitate to put on my jersey.
No one in my family is disabled, but it is so easy for me to "forward look"
and imagine myself as a parent or a sister of a disabled child.
Unified basketball is the most amazing program that I have ever been
a part of and I am thrilled my school joined the league. In
conjunction with Special Olympics New York, Unified Basketball is a
co-ed varsity team of high school students with intellectual
disabilities and general student partners that play alongside each
other. We compete against other schools and all student athletes get
equal playing time. It is highly competitive and promotes acceptance,
inclusiveness, and mutual respect. Imagine if you will, that for many
of these students this is the very first time they can wear their
school's jersey. Imagine their pride. They wear that symbolic jersey
to school and the game. Not only is it amazing to see the sheer joy
on their faces and their family's faces to see them included, but it
is just as rewarding to see the general student partners being so
helpful and loving during the games. For nine weeks, we practiced, we
competed, and we kept score. We were one team. It was a true honor
and I feel great that I was on this team in its inaugural year! I
feel like I got so much more out of it than I gave.
Finding time between studies, sports, and volunteerism is a challenge for
everyone, however, I feel it is my responsibility and fortunate
privilege to give back so I do so with eagerness. As a high honors
student athlete my peers look up to me as a role model. The life
lessons that we learn in high school carry over to our adulthood. I
am looking forward to being a teacher in early childhood education.
Playing side by side with disabled students shows acceptance and
mutual respect that needs to carry over to the general population and
the workforce. It does make a difference. I know I am making a
difference to these students and to their families. When they're
sitting down for breakfast on game day, wearing that jersey they are
excited because they are included and they are part of the team. I am
just as excited!
Willow M. Lunn