Name: Luke Kennedy
From: Woodinville, Washington
Grade: 11
School: Redmond High School
Votes: 0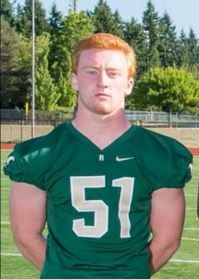 So many times in life we get caught up in our own lives that we forget
to think about what is right and instead do what is easy. Bear Creek
Road is a small 2 lane road that winds through the forest by my
house. With their vehicles zipping through at worrisome paces, the
people driving seem to be caught in that trap of Right vs. Easy.
These people are usually on their way home from work, and instead of
waiting until they're at home, they would rather toss their trash
right out the window onto my beloved Bear Creek Road. This had to
change.
In 2015 my dad decided it was time to act, and went through the process
with King County and eventually was given the honor of adopting the
road. The program is called Adopt-A-Road. My father and I have
committed to cleaning this road and working on litter prevention
there as well. We are very prideful, and that road is a reflection of
my family, so it made perfect sense for us to dedicate ourselves to
this project. We pick up big things on the road whenever we drive
through, but once every few months we do a full sweep. We gather
helpers and walk the whole stretch of road, usually gathering up to
20 bags of garbage. It's difficult sometimes because often it was
raining or muddy and collecting the trash became a real burden. Other
people knew this too and because of this our helpers would often
flake out. But those of us who did show up knew what we were in for
and dedicated ourselves for that day or weekend or as long as it took
until we were done. The cuts and dirt were all worth it in the end
though when we would hop in the van after that day's work was done
and patrol the road to find that we hadn't missed any spots and our
road was clean as a whistle.
It's very unfortunate that people can so easily make the decision to throw
all sorts of these things out the window just for sake of things
being easy. I only wish that those who do the littering would be able
to do this just once to experience what they're really doing. These
unnatural and disgusting things, from heart-breaking amounts of
alcohol and drug paraphernalia all the way to old car parts, all
become part of the environment and do damage to the ecosystem. The
Kennedy goal is to prevent as much of this littering as possible. My
dad is making signs and just by us being out on the road cleaning it
up will just show these people that somebody does care. Hopefully as
I come home in the future we see this change and we watch it spread
to other parts of our community. I hope for a cleaner and healthier
world, but I understand the importance of starting small and helping
this idea grow.