Name: Saleiah Brianna Holmes
From: HEPHZIBAH, Georgia
Grade: saleiahholmes16@gmail.com
School: Georgia Military College
Votes: 1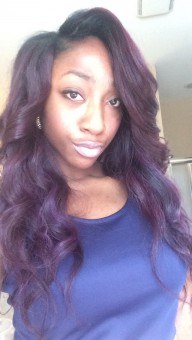 I have chosen to volunteer in Healthcare/Event Hosting. I began volunteering at the
Ronald McDonald house due to my grandmother being diagnosed with
Cancer a few months before I graduated high school. Sadly, she passed
away. To give back to the wonderful hospital team that assisted my
grandmother I began volunteering at the Ronald McDonald House.
I have volunteered well over 40 hours in one month at The Ronald McDonald
house. In addition, I am still volunteering at The Ronald McDonald
house and will remain to volunteer after I attain my degree.
As a volunteer, my responsibilities are to keep each unoccupied room thoroughly
cleaned. I am to clean the kitchen after the dining room is closed
for the night. I am to help with fun events and help host activities
that the Ronald McDonald house may hold.
My biggest challenge would have been when one of my volunteer co-workers did not
show up on her shift. This one night kind of overwhelming due to new
families checking in while old ones checking. This meant more
cleaning. However, the night was completed smoothly.
Just seeing families smile because of completed tasks by us volunteer workers has
given me the most satisfaction. Conversing patients' families is
also very satisfying because going through a rough time, an ear to
listen or a shoulder to cry on is all they may need to be uplifted or
comforted in a rough time.
From my volunteer position I have learned that everybody is human and they
have feelings too. These people gave off such a positive vibe. Life
should not be taken for granted. At any given moment one's life can
be taken away. In addition, after that night short on staff, I became
aware that I work exceptionally well under pressure. I understand how
important it is to be close to a family member while they are
receiving therapy or when they are hospitalized. The smallest things
like a clean kitchen to walk into, or a hot delicious meal could have
such a positive impact on a stressful circumstance.
I am currently enrolled in college to complete my Associates degree in Applied
Nursing and Arts, specializing in neonatology. My volunteer work
aligns with my career goal by helping me gain experience with people
with illnesses, different personalities, and building different
relationships while also doing something that I love. This work also
helps me to become accustomed to working under pressure. At work some
days will be days where the staff is shortened and the day won't be
just a walk in the park. However, all days are great!

Looking towards the future I see me being able to help families with
their newborns. Forward looking to me means obtaining progression in
development.
I believe my volunteer work would have a made difference because I give it my all.
In addition, all volunteer work is appreciated, but the ones that
gave patients' a time to remember when they look back years later
will be everlasting.