Name: Jarod Mariska
From: Cincinnati, Ohio
Grade: 11
School: Covington Latin
Votes: 0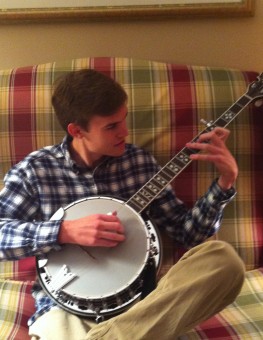 At The Rose Garden Mission
What started out as a weekly service outing for school quickly became one
of the most moving moments of my high school career. The Rose Garden
Mission in Covington, Kentucky, became the destination of my fellow
juniors this past year, and every week for two hours we arrived to
serve the wonderful sisters that worked there. The Franciscan
Daughters ran a no-questions-asked food pantry, and were supplied
solely on donations. My friends and I would stack boxes, move crates,
and put food in bags to give to the poor of Covington, who were
always waiting in lines outside the building to receive their
sustenance.
Throughout my time there, I was amazed by the sisters' fortitude and
self-sacrifice. To give up everything to live with and feed the poor
and homeless is truly a heroic act, and the nuns worked and toiled
more than anyone. Sorting rotten vegetables, caring for the sick, and
cleaning their front walk on the dirty street were some of the jobs
they did on a regular basis; and I'm thankful that I was able to
share in that with them.
When school ended, I was still drawn to the Rose Garden, and I came back
to serve with the sisters who have now become like family. Recently,
the sisters have planted a garden behind their property, hosting
myriad vegetables and other herbs that would eventually be given to
the hungry. Once a week, I harvest, weed, and plant in the garden for
a few hours, knowing that the food I prepare and grow will be used to
feed hundreds of the poor in my own community.
As I worked in the garden, I never considered by actions to be 'forward
looking'. Indeed, I thought them rather in the moment. If there's
anything I've learned from working with the sisters, it's that
service is a personal endeavor. Companies can give food, massive
organizations can make charitable donations, but the deepest and most
sought-after feeling a person can have is a personal relationship
with another person. It's what we all strive for. Physically handing
someone a package of food, talking with them, sometimes for a few
minutes or perhaps for hours, makes a huge difference, and you can
see it in the way they look at and treat the sisters. And now us.
This is the kind of change I would like to see in our world; service
is not a thing for a resume, or for a school requirement. It is a
natural outpouring of the self, given in love to those around us, who
are deserving of that love.
If I were to come back to the Rose Garden in thirty years, I know that
nothing would be changed. New people would be there; those seeking
aid, and those giving it. The same nuns would be there, still helping
people. But in my moment in time, in that perilous hour of one
obscure person's need, I was there; and that, ultimately, is all that
matters.