Name: Samantha Garcia
From: Ozone Park, New York
Grade: Senior in H.S. (12th Grade)
School: Daemen College
Votes: 0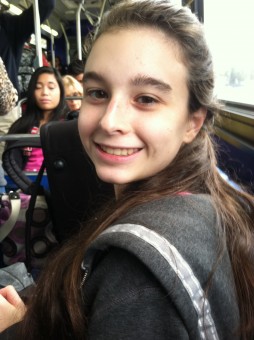 For as long as I can remember I have wanted to help and learn about animals. Thus,
when I learned I could volunteer at the NY Aquarium and the Queens
Zoo I was ecstatic. Volunteering at these WCS organizations means
being part of a larger effort to protect animals. I am very
passionate about animals, animal welfare, and science in general so
the opportunity to volunteer at places such as the NY Aquarium was a
perfect fit.
At the NY Aquarium I volunteered three times a week in the summer while at the Queens
Zoo I volunteered every Saturday because it was during the school
year. My responsibilities included educating visitors, but also
things such as helping out at special events and making sure people
received accurate information. Education at WCS parks is extremely
important as the Wildlife Conservation Society as a whole is
dedicated to helping wildlife and the environment. Thus, it is the
job of the individual parks to educate visitors about this mission
and help them to understand the importance of it.
My biggest challenge as a volunteer has probably been dealing with people that
will not listen or do not want to understand what you are trying to
tell them. Some people will always think their opinion is correct
even if you try to explain to them otherwise. On the other hand, I
get tremendous satisfaction from knowing that most people are
listening and have learned something, whether it be about the animals
or the environment. One experience I remember involved a young boy
and his mother at the touch tank at the aquarium. The boy was
intrigued by the horseshoe crab and its twelve legs, along with the
seastar or "Patrick" as he called it. His interest allowed me to
teach him about the animals in the touch tank in a way he would
understand.
Volunteering has taught me many things. I have learned skills such as public speaking
and working with a team. Furthermore, I have gained knowledge about
wild animals and the places they live. I also learned that speaking
with people does not have to be a daunting experience. If you are
passionate about what you are telling people it is much easier not to
get nervous.
In the future I definitely see myself helping and interacting with animals. Thus,
"forward looking" means the continuation of my passion for
animals by finding other positions that allow me to pursue that
passion. I am positive that my time volunteering will make some
difference or cause change to happen in the wild and for wildlife. In
fact, recently ivory was banned which is an accomplishment I was a
part of. During my time at the Aquarium, we ran the 96 Elephants
campaign to attempt to ban the sale of ivory. Now I can confidently
say that the campaign made a difference and it was celebrated while I
was volunteering at the Queens Zoo. I hope that changes such as these
continue to happen.