Name: Anasia Clayton
From: Windermere, FL
Grade: Junior
School: Windermere Preparatory School
Votes: 0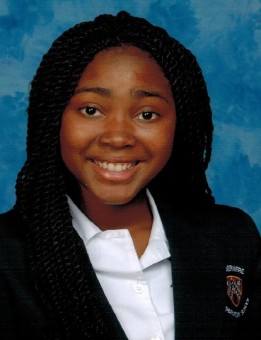 THE SECRET OF SIGNIFICANCE
As children we dream of being heroes, fighting crime, and saving the
world. We dream that one day we'll make a difference and find our
own life's significance. However, as we grow up we lose sight of
our childhood dreams. We believe that there is no possible way for us
to make a significant difference. We believe that we can't save the
world, we can't fight crime, and we can't be heroes. We believe
that those are just dreams, fairytales, and make-believe. We begin
to look for significance in more selfish ways.
It's not just me who has looked up at the sky with the hopeful eyes and the open heart
of a child, only to grow up and start thinking that those dreams were
just in fairytales. Why do we have dreams so high, but then come
crashing down with our faces downcast and our heads turned down? If
only we would just look up, look around, and finally see that we are
surrounded by people in need. Maybe we can't change the whole
world, but maybe, we can save someone's world. That is what being a
volunteer is about: helping each person you can, making them feel
like they are worth saving. Is there anything more significant than
that?

I have volunteered in various places like a local homeless ministry,
food banks, and the hospital. All of those were enriching
experiences, however, I currently volunteer at Real Life Christian
Church, as a lead Sunday school teacher for preschoolers. I started
volunteering with the preschoolers one day when a family friend was
in a pinch and saw me walking by. I was eager to help her out
despite the fact that I wasn't very fond of children at that time.
Three years later, I lead the class and absolutely love children.
These two hours on most Sundays has become completely worthwhile. To
see the joy on each child's face as we play games, sing songs, and
tell stories is an amazing experience. At times, it's tough when
I'm exhausted from the busy week of IB classes and school
activities and I have to set up the classroom and prepare for my
little friends. My patience wavers as preschoolers run around and
I've had to tell Matthew five times not to bite Mason, but you know
it's worthwhile when I see those curious eyes filled with
excitement. Volunteering with these kids has taught me how to love
and how to be patient. I know that volunteering has made me a better
person. It's taught me how important communication is and how
important it is to make sure everyone feels wanted. I see my
volunteering as forward-looking because the people we help today will
help someone else tomorrow, creating an endless cycle of love.
What's more, those superhero dreams I once had have been replaced
by my own reality: touching real lives, in real-time, in real (often
real simple) ways. I've learned my own secret of significance.