Name: Nia Rose Custis
From: Honolulu, Hawaii
Grade: Freshman in College
School: Hawaii Pacific University
Votes: 37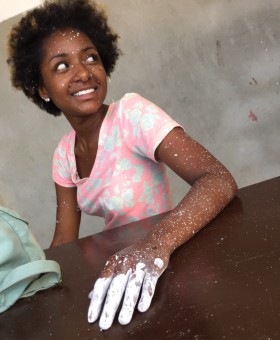 Service
as a Lifestyle
I have accumulated at least 1000 hours during my years of volunteering.
It seems only yesterday that I went on my first mission trip in
Baltimore 2009. I knew even then that volunteerism was for me.
Despite having to weed yards for complete strangers and pick up trash
in dimly lit alleyways I still left with a smile, eager to serve
again. Through years of travel worldwide, I have had the opportunity
to volunteer in beautiful places like New Orleans, Belize, and Haiti.
In addition to disposing of trash I have been able to refurbish
playgrounds, paint an orphanage and most importantly fellowship with
new faces.
Although contributing to others and forming long lasting relationships is my favorite part of volunteerism it is simultaneously my toughest
challenge. It takes courage to not only greet but to also
communicate with a complete stranger. And it requires humility to do
for someone other than yourself. But I have found that by serving
others, I am giving to myself. The thought of being a part of a
bigger picture provides purpose for my life. In addition the prospect
of seeing new environments and entering the world of foreign cultures
excites me.
As a volunteer I have learned various things such as what is necessary
to operate a non profit, how to communicate with individuals even
through a language barrier, but above all who I am. I am a wildly
adventurous (sometimes wandering) spirit who loves to make others
smile. Be it through laughter, service, or companionship I am
fulfilled by giving love.
Through this lifestyle of unforeseen outcomes, there are of course upsets and
downfalls. To name a few, I have been blatantly ignored, surprisingly
rejected, and had to tirelessly work on a project only for it to be
disassembled. As the saying goes, "hurt people, hurt people".
Yet even still the effort is worth it. Although there are individuals
who have been hurt one to many times and in result reject others; we
must continue on! As I said before, it takes courage in this life of
volunteerism. But I believe as everybody takes on this necessary
boldness, the world will be a better place. Like actor Matt Damon
said in We Bought a Zoo "Sometimes all you need is twenty
seconds of insane courage and I promise you something great will come
of it."

With moments of insane courage I have had the opportunity to witness
miracles and form exceptional relationships. With the new-found
relationships and lessons learned I plan to establish my own non
profit that focuses on promoting health, educational, and cultural
development. 15 years from now I know that the service I have taken
part in will make a difference, because I have worked side by side
with the people of those communities. This way they can continue on
what we have began through the years. Through bravery of service of
the many, we are changing the world one step at a time.