Name: kyla oetting
From: Tucson, AZ
Grade: 12
School: Presidio School
Votes: 153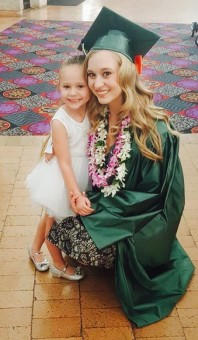 Kyla Oetting
Why Service Matters
Being part of my community is something extremely important to me. One way
that I fulfill this is by being involved in community service and
volunteering programs. I was not always adamant about helping others,
but there came a time in my life when an event changed my viewpoint.
In 2011 my sister was struggling with a rare disease and my family and I
spent weeks in and out of the hospital. As you can imagine this was
an extremely difficult time for us, but luckily we were introduced to
a program called Kids Of Steele. This program is a support system for
all families with children who are struggling with a variety of
diseases. In my family's specific case KOS went so far as making
sure that we had snacks, and activities to fill endless hours of
waiting and treatment, as well as companionship, to make sure my
family stayed as stable and normal as possible. This group was a true
lifesaver to me and my family during our time of need and has
influenced me to get involved and help others in our community.
Because KOS was so important to me I decided it was absolutely necessary to
get involved in this program and give back a little of what we had
received. Today, 4 years down the road I have volunteered over 500
hours with this organization and had some life changing experiences.
Some of the ways I have helped with KOS are volunteering and planning
annual fundraising events, delivering breakfast and afternoon snacks
for patients and their families in the hospital, giving toys to the
young patients undergoing treatment, running book drives for hospital
clinics, and many other events. I not only get to be the one to add a
little light to these families lives but the volunteering program
gives me the ability to gain amazing experiences, hear beautiful
stories, and create unbreakable bonds with other patients and their
families. I know that the way I help my community may not be
considered large or important. However, to me making sure that
families going through this type of battle, whether I know them
personally or not, are taken care off is one of the most effective
ways i can make my community a better place.