Name: Darnell Darden
From: Princess Anne, Maryland
Grade: I was in 12th grade during 2015-2016, but I am a college freshman today, Aug. 28, 2016.
School: University of Maryland Eastern Shore
Votes: 0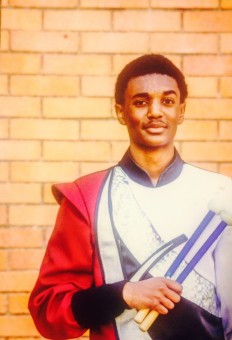 I've heard the assertion, "Service is the rent you pay for your
room here on earth." I find this statement valid because the more I
study global history and life, the more I realize that every person
is obligated to make this world better. Therefore, I live a life of
service. Because I appreciate the financial struggle that my family
endures to send me and my three siblings to music school, I utilize
my musicianship to serve. For example, since 2011, my band D-Sharp,
comprised of my two brothers and myself, volunteer for the Philly
AIDS Walk, rising before dawn on the day of the walk, setting up our
equipment along the West River Drive, and playing upbeat jazz and old
school rhythm and blues to encourage and entertain the walkers, as
they walk to raise funds for research and assistance to help people
living with HIV/AIDS.
Another way I use my music to serve is by volunteering at a
camp in Philadelphia called Amazing Grace, A Safe Place. For the past
three summers, for two hours per week in 2014, 2015, and 2016, I have
been teaching music theory and percussion to the campers, ranging in
age from four to fourteen. During this experience, I discovered how
dedicated teachers must be in order to be effective, and I learned
how much time, effort, and money are required because I had to
prepare lesson plans for the various age groups weekly, before
meeting with them, and I had to purchase supplies. Also, I prepared
in advance to approach teaching time signatures and the bass and
treble clefs one way to reach the preschoolers, and a different way
for the older campers. Older students maintained a notebook, and I
taught in a traditional fashion, using a blackboard. For the younger
students, I created worksheets and circulated the tables, helping
them draw notes and clap beats. Besides learning flexibility, I also
developed exceptional organizational skills. Creativity is another
skill that I honed while volunteering. For instance, to teach
rhythm, I helped the students craft maracas out of plastic water
bottles. We put rice or macaroni in the bottles, and decorated them.
We also made drum pads. At home, I sawed the wood into circles and
glued foam pads onto them. Then I taught the campers to hold and use
drum sticks. By summer's end, the campers delivered a performance
of "Hot Crossed Buns" using their handmade instruments.
Despite the challenge of using my own funds for supplies, I enjoy the reward
of watching the campers feel a sense of accomplishment and pride,
which will last them a lifetime. Despite the challenge of rising
early and setting up equipment on icy October mornings, I'm proud
help fight against HIV/AIDS. As I major in agriculture at UMES, I
will use my new-found skills to help society grow foods and cannabis
to maintain their health. Service means improving the world, which I
will do with my college degree and musicianship.