Name: Cate Zenzen
From: Red Wing, Minnesota
Grade: 12
School: Red Wing High School
Votes: 0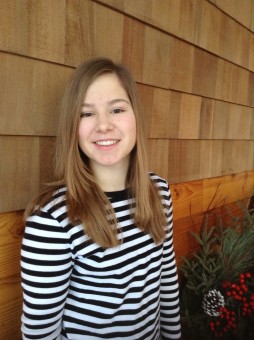 As a high school student in the National Honors Society, the importance
of community service has an emphasis in my life. I recognize the
importance of helping those who cannot work for themselves and being
available to lend assistance to anyone in need. Last year I had
decided to use my abilities as a volunteer to join the Minnesota
Military Teen Panel and give my assistance to this program.
The Minnesota Military Teen Panel is a group of military connected teens
who meet several times a year to take part in community service and
plan a summit for other military connected youth. As a member of this
group, I have taken part in planning workshops for youth, helped at
an Urban Ice Anglers ice fishing event on Lake Harriett, packed meals
at Feed My Starving Children, and led teens in activities at the
annual Teen Summit. My father was enlisted in the Army National Guard
for 32 years and my uncles and grandfathers have also served in the
military. Being a member of the Military Teen Panel gives me an
opportunity to volunteer my time and focus to other military kids as
my family has volunteered their lives for the safety of people
around the world. This highlights what forward looking means to me.
Service members abandon their comfort and freedoms to work towards a
better future for the world.
The Minnesota Military Teen Panel requires its representatives to take
part in 50 hours of community service per year. The panel meets four
times a year and often uses that meeting time at volunteer events,
but I have volunteered individually in my community in order to meet
this requirement. I've discovered that not all volunteering must
happen at specified organizations or events. Even just helping out at
my church or school fits a need for others that they could not fill
themselves.
A struggle I have needed to overcome with my involvement on the
Military Teen Panel is working with others. I define myself as a
leader and find it difficult to conspire with other leaders as
everyone is used to taking charge. Yet by stepping back and letting
others contribute, the panel can achieve things beyond my
capabilities, and reach the goal of making a difference in the lives
of military teens who feel they are alone in their experiences.
The Minnesota Military Teen Panel has helped me grow as a leader and
teammate, but the most valuable thing I have gained from the
experience is perspective. As a military kid I have gone through four
year-long deployments and have spent countless important events
without my dad. Not a lot of families in my community have
experienced this, but my fellow panel members have. These teens have
become great friends of mine and have shown me that even though we
are all so diverse in our interests and characteristics, we all
commonly have brave family members who took on the ultimate
responsibility of volunteerism; service above self.