Name: Aliyah White
From: Rock Hill, South Carolina
Grade: college freshman
School: Winthrop University
Votes: 0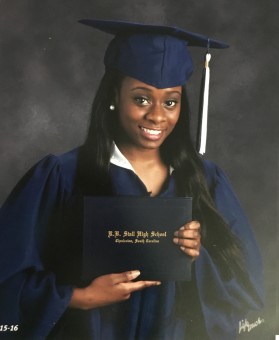 SERVING MY COMMUNITY
Aliyah
White

Community and education are two huge
factors in my life. I have volunteered as an assistant teacher at my
dance studio for five years, been involved in Girl Scouts for
thirteen years, and was a part of JROTC, the Unified students club
where we worked with the Special education students and other
activities in my high school. Being a part of these activities has
taught me that getting involved in your community is the only way to
improve it and make it what you want It to be.
         Community service does not have to be done in an extravagant,
attention-grabbing fashion. The smallest deeds can have the biggest
impacts. I have accompanied my aunt occasionally when she has
volunteered to feed the homeless downtown with her church. It was a
very eye opening and gratifying experience. A variety of people came
through the line and even though I was only passing out cookies at
the end of the line the smiles and "thank you's" I received
made me realize that I was a part of something bigger and any amount
of assistance I could offer could make a huge difference on a
person's life.
      I am currently working with Neighborhood Solutions on the 526 Low
Country Corridor project. We spend hours outside walking through
neighborhoods and handing out information and conducting meetings
concerning safety and construction issues with the roads and other
concerns with transportation in North Charleston. This job has given
me a sense of satisfaction knowing that helping my very own
surrounding community just by trying to improve the roads and their
means of transportation.
     My favorite volunteering activity has been being an assistant dance
instructor at Happy Feet Dance Studio in Hanahan, South Carolina. I
have taken ballet, tap, jazz, and lyrical classes beginning at the
age of four and love to assistance and encouraging young, new and
aspiring dancers. It is challenging sometimes because I want to help
them be the best artist and performing they can be but sometimes you
have to take a step back and allow the student to develop on their
own. I love to dance and share my passion with others. Dancing should
come from the heart it is more than just a physical activity.
          After attending Winthrop University for four years my career goal is to
become an early elementary teacher. My teachers have had huge effects
on me over the years. They've helped to prepare me for life inside
and beyond the school walls. Teachers can bring the most tedious
subjects to life and motivate students to want to learn more. Being
educated is a necessity in today's world to survive. A good a
education will carry anyone into a successful future. I teach Sunday
School and Vacation Bible School at my church, New Grove Hall
Christian Church. I enjoy teaching the children new Bible stories and
helping them learn how to apply each lesson to their own lives. I
want to educate and inspire my students to be informed,
compassionate, and productive members is society. I would like to be
the teacher that has a special impact on their students.