Name: Carley Alexis Johnson
From: King George, Virginia
Grade: Freshmen
School: Virginia Commonwealth University
Votes: 0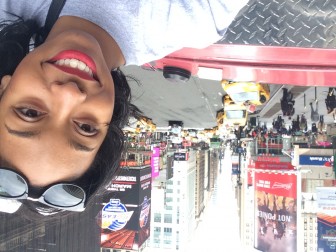 Giving back to my community is something that is very important to me. I began volunteering with my church through our pantry program. This program consist of local businesses and corporations donating food to us, then once a month
people within our community come to the church to shop for what they
need for free. We provide canned/boxed goods, frozen meats and
vegetables as well as hygiene products too.
After finishing my first semester of college at VCU and moving into my spring semester, for a class assignment I decided to join our Ram Pantry program were we
assist students and faculty with fresh/canned goods along with
hygiene products that they are unable to afford. I chose to work with
this program because my family and I can't always afford everything
that we need and it's a great way to give back to my fellow
associates. The Ram Pantry is open twice a week on Wednesdays and
Thursday from 11 am to 5 pm, which allows me to work about four hours
a week. In being a part of the Ram Pantry family my responsibilities
are to make sure everything we have is not spoiled or molding, making
sure that all of our shelves are stocked and to greet and help out
any student or faculty member who comes in during our hours. Since
volunteering at the Pantry I have not faced any challenges, the
people who come in are always so grateful for us and what we're
doing for our schools members and that honestly gives me the greatest
satisfaction that I could ever ask for. Knowing that I'm doing
something that benefits someone else is the most amazing feeling; The
people who have come into the Pantry have taught me to not only
appreciate what I have but to also appreciate what someone will do
not only for you but for an entire community.

Volunteering with the Pantry has no alignment with my career goals, but it has influenced me to broaden my goal to include what I am doing now. As for the future I plan to continue to work with the Pantry and help them expand to a
bigger location on campus. The change I seek to foster in the world
is world hunger. As a people we tend to throw away tons of uneaten
food and someone else across the globe could need that. I would start
off small by getting rid of hunger in my community, then my state and
so on. I would like to think that in the next ten to twenty years my
volunteer work would have made a difference, even if it only made a
difference in one person's life I would at least know that I
touched someone.