Name: Gillian Frihse
From: Las Vegas, Nevada
Grade: 11
School: Las Vegas Academy of the Arts
Votes: 0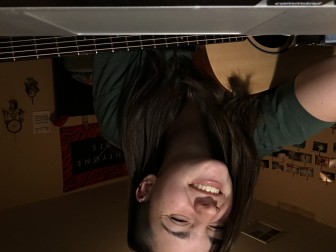 Serving my community has always been a priority. Helping others is not only
beneficial in providing goods and services for others, but teaches me
important life lessons. I have learned many new trades, and have
gained a better understanding of people as a community. I have been a
volunteer inside my church for almost six years. I devote myself to
the church for 6-12 hours each week. There have been many different
areas that I have had the opportunity to serve in, such as worship
arts, coffee shop, children's ministry, and the tech ministry.
Worship arts is my personal favorite area to volunteer in. My passion for
music has provided me the fuel to continue to volunteer in this area.
My responsibilities included preparing and performing songs, working
with other musicians, and leading those musicians in our songs.
Another area I have volunteered in is the coffee shop. This position
was centered around serving our customers. I would make coffee, run a
cash register, do dishes, and clean the shop. Next, I have
volunteered in the children ministry. This included leading children
in worship, and teaching them lessons about God. Because of this
position, I have learned how to talk to children and how to be more
patient and understanding. Lastly, the tech ministry has taught me an
enormous amount. I learned how to run the lights, sound, and video
systems in our church. It was not the most social volunteer position,
but it taught me a lot and specifically taught me how to be more
observant and patient.
The biggest challenge as a volunteer is to keep my focus on the people I
am serving, rather than on myself. However, the people give me the
largest sense of satisfaction I have ever experienced in my life.
Making others smile and laugh is the most important aspect of service
to me, and knowing that I did that fills me with the most incredible
sense of satisfaction. Each area of service that I have volunteered
with has taught me different things, and the combination of theses
categories has helped me become the well-rounded, amiable person I am
today.
The term "forward looking" to me means propelling or pushing toward a better cause.
Because I am focused on becoming a music therapist, I would need
social skills and the volunteer attitude in order to be successful in
that field. Thankfully, my volunteer experience has equipped me with
abilities to work well with others and provide service with a smile.
I plan to continue to serve in any area I can, whether inside my
church or outside my church. I know that in the grand scheme of
things, I am very powerless, but I can help as much as I can within
my community and state to change the lives of those immediately
around me. I truly hope that in ten or twenty years, my service will
be remembered and seen as a path to betterment.