Name: Amanjit Singh
From: Yonkers, New York
Grade: High School Junior
School: Yonkers High School
Votes: 0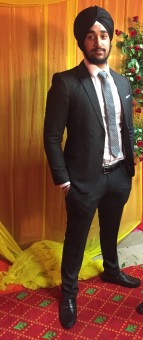 Amanjit
Singh
For as long as I can remember, I have been attending my religious temple,
the Sikh Gurdwara, most Fridays. Since I was very young, my family,
especially my father have taken pride in going to the Gurdwara and
fulfilling their spiritual needs as well as being of service to the
temple and to the community. A tradition established at the roots of
Sikhism is "seva" or selfless service. Sikh history is filled
with the ultimate acts of volunteerism such as men and women who have
fought wars and Sikhs who have been martyred for their family, their
community, and their faith.
In a way, the values of volunteerism have been instilled into me since I
was a little boy. In our temple, the kind of volunteering we do
consists of cooking and serving food to everyone who comes to our
doorstep regardless of age or race. This is known as "langar seva".
We also aim to educate our youth and community about the history of
Sikhism, the values we represent, and teach the Punjabi language.
I've been participating in these endeavors ever since I was around
eight years old. This means every week, at least once a week, for
eight years I have spent time serving meals to those who sit in our
langar hall, or done simpler things such as teach the younger
children about our faith and the Punjabi language. This usually
accounts for three to four hours a week if not more.
My biggest challenge as a volunteer was consistency. Many days I didn't
feel like coming to the Gurdwara because I was tired or sick but I
managed to pull through and came out feeling even more satisfied,
especially on those days. For this, I have to give credit to my
father because without him I may have never even taken an interest in
Sikhism itself let alone our community service. I believe the
recognition and respect I have gained from my peers and community is
what has given me the most satisfaction. I have stood out as one of
the only members in the youth to love coming to the temple and
genuinely enjoying it. I have learned to be an active member of the
community and gained several traits I admire in myself such as
honesty, teamwork, consistency, and discipline.

The Sikh community exists all across the globe and there are thousands of people like me who love
the very spirit of volunteerism. We are forward looking in our desire
to better the community wherever we are situated. I will continue my
service into the future for as many years as I am able to and I hope
to look back and think that I have made a difference. Selfless
service is what I have built my mental and spiritual base on and I
wholeheartedly hope that a change I will see in the world is equality
and harmony among all peoples no matter who they are and where they
come from.