Name: Hannah Pearson
From: Fargo, ND
Grade: College Freshman
School: North Dakota State University
Votes: 0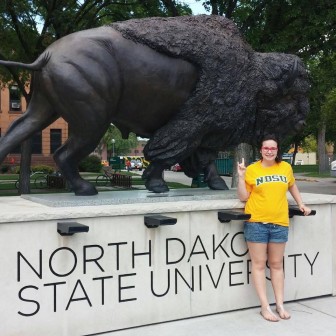 Over the years I have had the opportunity to get involved with many organizations. I
have volunteered with student council, builders club, Key club, girl
scouts, The FM Humane Society, STLF, my temple, and I am now
volunteering for my sorority, Kappa Alpha Theta, where I am the
service and philanthropy director. I am lucky to have so much
volunteerism so early in my life and I am excited to continue on with
this passion I have.
Through these opportunities, I have fallen in love with service. I have
worked with animals, kids, homeless shelters, packaging food, raising
money for CASA, and much more. I am lucky to have been given these
opportunities. I love being able to do many different things, versus
only volunteering in one area. I choose to have the widest influence
for good.
An important part of volunteering is to smile and make the most of the
situation. If you have fun it will be an experience you will remember
for the rest of your life. My biggest challenge as a volunteer is
that I am also a student and have jobs. It is hard for me to balance
all of my other activities and responsibilities with doing as much as
I want to be able to do. I pride myself in going above and beyond of
what is required of me in service and will continue to push myself to
do more for my community.
As cheesy as it sounds, I get the most satisfaction from just knowing
the impact I am making. I think it is important to be able to take a
step back and realize how one day or one little action can make a
world of a difference. I volunteered with Feed My Starving Children,
here we packaged meals for malnourished families in 3rd world
countries. In my hands, I held something we take for granted, but
could save lives. That empowered me to go out and help as many people
as I could. I also experienced this when volunteering with Project
Linus, a nonprofit that makes and donates blankets to children in
tough circumstances. Knowing that the blanket I am making with my own
two hands is going to a child who is scared and needs to know people
out there are watching out for them. That is the most rewarding part
of volunteering.
I know volunteering will remain a huge part of my life. I have a
passion for helping others and believe that no matter what field or
job I go into, I will still find time to give back to the world
around me. I truly believe that the good work I am putting in now is
doing good all around the world. I also believe that finding a
service project you are passionate about will leave a lasting impact
on anyone who serves in the world. Even if I only make a positive
impact in the lives on one person, that is good enough for me.