Name: Adaneth Jasso
From: Coachella, California
Grade: High School Junior
School: Coachella Valley High School
Votes: 95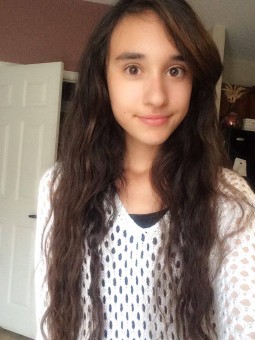 Adaneth
Jasso
Youth
Forward
Serving
the Youth
Becoming a volunteer means showing commitment and determination, much like a
leader, wanting to make a change and prove your capability. You can't
walk in front of a crowd and talk about what you want and not take
action for it. To volunteer means to take responsibility for yourself
and for the people around you, having consideration to everything put
your way and make better choices for your position.
My days of volunteer work began once I entered seventh grade. I began
helping during Sunday mass as an altar server helping the priest
during mass, simply two hours a week, every week. About three months
later, I decided to volunteer at a local animal shelter. Every
Saturday morning, I'd spend up to five hours cleaning cages,
feeding dogs, cleaning both yards, and simply keeping animals
company. It was something I enjoyed. By the end of my freshman year,
I started serving as an usher helping keep things organized during
the mass took the position as a lector a year later. Besides doing
this on Sundays, I also became a youth leader. For three hours every
week, twice a week, I help organize games and talks for the kids who
go to youth group. Whenever it is my turn, I prepare presentations
giving advice to help teenagers with life problems using our faith
and letting them know they are not alone. Being a leader even
includes helping with fundraisers and stepping further into our
community, for example, feeding the homeless. Recently I took it upon
myself to create dances with the teens and perform them to the
community when asked.
Of course being a volunteer takes time. I spend up to ten hours a week
at church and five extra when I was a volunteer at the animal
shelter. However, my only challenge was my mom. It bothered her to
have me out of the house for so long so she made me choose between
the shelter and church. Although I enjoyed the animal shelter, I
realized my true place is as a leader at church. This satisfies me
because I am able to help teenagers. It even helped me learn more
about my faith and gave me a desire to want to improve myself. As a
volunteer leader I improved my communication skills and learned my
capabilities. It also created my dream to be an inspiration to kids
one day.
As a volunteer leader I seek inspiration and application onto the youth.
To inspire determination and success and have them apply what they
learn into their lives to make a difference. In order to teach
something to youth, you need to understand them, not simply believe
that you do. Volunteering here, I want every youth to stand up for
what is right and understand they are not alone in their problems. I
cannot say my work will make a difference, but it can make a
difference to someone personally.
Before becoming a volunteer, you need to know what your purpose is in your
position. As a volunteer, I have the determination to bring hope to
the youth and see a change in our world for the better of the youth.