Name: Abigail Hamvas
From: Princeton , Minnesota
Grade: Senior
School: Princeton High School
Votes: 90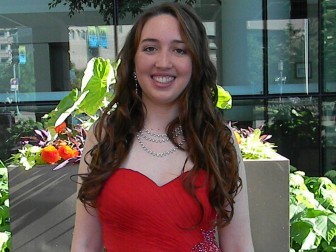 Author Walt Streightiff once said, "There are no seven wonders of the
world in the eyes of a child.  There are seven million".  This
perfectly sums up why I chose to become involved with my church's
Awana Club, called Cubbies.  Children see the world completely
differently than adults do, and have the amazing ability to put
things in a new perspective, and that's why I love spending two
hours each Wednesday night of the school year with them, acting as an
assistant teacher.
In that role, I prepare the room before class and supervise the
children.  The greatest challenge in teaching young children is
communicating to them the proper time to speak and to listen.  I
want to talk to children using a peer to peer tonality, and I never
want to dampen their enthusiasm, but I also have to oversee and
instruct on average 25 preschoolers.
Despite challenges, volunteering in this area is rewarding.  The
children say things that amuse me; such as, "My mom is about a
billion years old, maybe even older!"  I also love seeing them
change throughout the year.  Some of them start the year
scribbling on their craft, and end the year writing their own name
legibly (well, sort of).  
From volunteering I have learned to lead a large group of people and
manage several different problems simultaneously, which helped me
realize that the majority of the time, one's problems can be solved
with level-headed thinking and effective communication.  I have
also learned how to relate to people whose minds think differently
than the average adults'.
Volunteering has allowed me to impact the future in a unique way.  My
position enables me to teach children about their family's
religion, and about what it means to interact with each other in a
positive manner.  I use this opportunity to show children what
kindness is.  The church at which I volunteer emphasizes
reaching out to children who are in broken homes, so some of the
children I work with are in families where one or both parents not
consistently present in the children's life, or the children are in
foster care as a result of instability in their own family.  Cubbies
is the place for them to regain a sense of structure and support.
When a child chooses to share what is on their mind, I always
listen.  Sometimes this means I have five or six kids trying to
talk to me at one time, and it's always worth it.
I love volunteering, and I hope it makes an impact on the children.
However, I do not do it so that I can look back and know that I
made a difference.  I do it because I know that in that moment
there are children who are looking to me for help and guidance and if
the only impact I make is giving them the support that they seek,
then there is no better way that my energy could be spent.