Name: Aaliyah Mariah Booker
From: West Hartford, Connecticut
Grade: college freshman
School: The University of Hartford
Votes: 0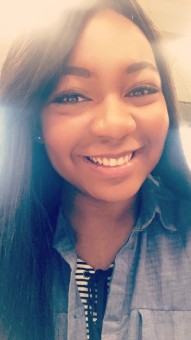 I love to perform and share my love of music to the community. For example, when I was
13 completed the Girl Scout Silver Award, which is the second highest
award a Girl Scout can earn for community service. My project was
titled Music the Joy of Life and was comprised of 50+ hours of
community service where I held concerts at retirement homes and
taught violin lessons free of charge. My goal was to inspire people
to play music regardless of your level and age. Doing this project
sparked a flame for my love to help people and from then on
I then started regularly at playing at retirement and nursing homes all over
Northern Virginia such Greensprings Retirement Home, Chesterbrook
Retirement Home, Powhatan Retirement Home, Vincent Hall, and Ashby
Ponds. I vividly remember after I performed a resident of
Greensprings Retirement Home came up to me in tears saying my
performance of "Ave Maria" reminded him of his late wife. I was
so moved and touched by this man's kind words. I have been awarded
several Certificates of Appreciation for performing for my work at
retirement homes.
I have also played in churches in Northern Virginia and Maryland. Before starting at The
Hartt School of Music I regularly played at my local parish St.
John's the Beloved Catholic Church. I also remember after mass an
older gentleman came up to me and told me he has attended some masses
where I have played the violin and that he used to play the violin as
a child and teenager and that after watching me play he has now
picked up the violin. Little did I know that moment that this man I
was talking to would be one of my biggest supporters and life
mentors. We are still in contact and remain in touch even though I am
in university.
I also did a fundraiser at local metro stations in the Northern Virginia/
Washington DC area for a couple who was in a car accident. The wife
did not survive, but the husband was suffering from a brain injury.
I have also played ,at town centers, the state department, The French Embassy in DC, and
The German Embassy, and The Washington Monument to share music with
the community and to rise awareness of having young people play
classical music and raising money for non profit orchestras.
During high school I was a member of tri- M Music Honors Society and did a lot of service
organizing music libraries. I also played in the pit orchestra at my
high school and was a member of Project Enlightenment which is a
living history club and regularly played the violin at museums and
historical sites such as Mt. Vernon, Gunston Hall, and the Corcoran
Gallery of Art while educating the public community about music of
colonial times. For my service in high school I was awarded The
Musicianship Award, The McLean High School Service Award, and I have
been awarded The Director's Award twice which is given to a young
musician who exhibits qualities of a leader through there work in
school and the community.
I was also a member of Leadersnow International is an organization that provides young
women with formation in character, leadership, and service to others
and the community. and was awarded The Willetta Potter award which is
awarded to a member who has completed over 500 hours of community
service in the field of her interest. In addition, I was awarded the
100+ hours of service award.
Last autumn I did a music community service project at the town of my university with my
chamber ensemble were we held open rehearsals open to the community
so they can learn about classical music. This projected last for two
months and consisted of over 50 hours.
From helping the community and always doing service I realized that this is a huge
part of me and I want to help people and to give back to people. To
expose them to music when they might not have the opportunity to
learn music or see an instrument. I would love to expand and not just
help the people in Northern Virginia and DC, but the whole world.