Name: Naomi Michael
From: Fayetteville , Arkansas
Grade: 10
School: Fayetteville High School East
Votes: 0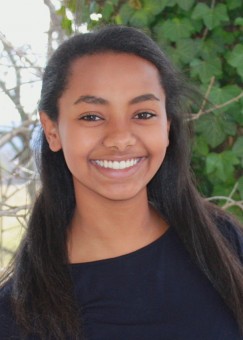 Small
Town, Big Heart
Volunteerism is the heart of Northwest Arkansas. I moved to this region from East
Africa when I was four years old and that quickly became apparent. My
family did not have a lot of money at the time so we relied on local
food pantries and services provided by the university my parents
attended. Seeing those people actively serving others as a living,
and doing it with such compassion, made a lasting impression on me.
From then on, any opportunity I was given to volunteer, I happily
took.
I started off volunteering at the Fayetteville Public Library during
the summers of junior high, for about two hours a week. I would clean
books, repair CDs, and help out with events taking place in the
children's library. Then, after taking a civics class in ninth grade, I began
volunteering at Washington County Teen Court about once a month for
two and a half hours. I would spend this time as a juror, hearing
cases where teens committed a minor crime but pleaded guilty, and
came up with fair consequences with my fellow jurors. My interest in
civil service continued when I ran for student council representative
in the same year. I was one of the three elected to join the high
school council of about twenty other students. All members commit to
annually running for reelection and completing at least 75 hours of
community service. The council also works together to do several
service projects including homeless vigils, charity fundraisers, and
bloods drives.
When I moved into high school the next year, my busy schedule and tough
classes made it harder to set aside time for volunteering. I had to
volunteer less regularly at the library and teen court, but his
opened up some of my time to find new service opportunities to take
part in. I joined Mu Alpha Theta, a math honor society, and Astra, a
nonprofit service organization. For Mu Alpha Theta I had to complete
15 hours of tutoring and for Astra I had to volunteer at least three
times at club sponsored activities. Broadening my volunteering
horizons to include these two activities revealed to me my love for
tutoring and gave me the opportunity to be secretary of Astra for the
next school year.
Each of the different ways I have volunteered taught me something new
about myself. The library gave me confidence to work with different
type of people, teen court allowed me to voice my opinions, and
Student Council showed me that students working together can make a
big impact. The combination of all these activities guided me to the
passion I have to serve others and pushed me towards a career path:
business. While I hope that my volunteerism has a large impact on the
world, I would be completely satisfied if I had at least encouraged
one person I have served, or anyone for that matter, to continue to
pay it forward.