Name: Kamryn Welling
From: American Fork, Utah
Grade: 11
School: American Fork High School
Votes: 237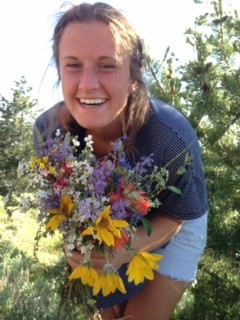 I walked into the crowded room with nervous anticipation. 18 smiling
faces greeted me with missing teeth and neatly combed hair. The kind
lady who had escorted me in turned and left. I had volunteered a week
before to assist the teacher at a summer reading clinic for small
children. My job would be to sit one-on-one with the kids and teach
them how to read. Upon arriving at the clinic, I was informed the
teacher had quit and I was now the head instructor. I began that
first day's lesson by going over the sounds of each letter and
having the 4-7 year olds repeat after me. The progression we've
made since then has been astonishing. Kids who didn't understand
that "I" made the "I" sound have started reading books by
themselves-completely unassisted. Volunteering at the Noman Global
Language center has been one of the most rewarding things I have ever
done and it makes me feel significantly accomplished knowing that I'm
helping the children, their families, and one day the world.
Oftentimes, when a child is falling behind in school, the teacher may not have
time to individually nurture their skills. This leaves the child in
the dust, feeling unintelligent for not keeping up. This program
allows additional time to teach the child, using one-on-one learning
skills. Enabling the student to advance to their appropriate the
level gives confidence to the child as well as a higher success rate
in their classes at school. This is necessary for lifetime
progression.
Many of the kids I work with come from foreign families, most of whom
speak little or no English. These children are the first in their
families to learn the language and often prove quite beneficial to
teach. At the end of each class, each student receives a book that
they take home and practice with their parents, strengthening the
bilingual skills of both.
Children are the future of everything. Every corporation and business will
eventually be run by them. Making sure that their education is
intense enough to ensure their success is something that should be
made a priority by all people. The legacies that we build are useless
without people to pass it on to. If we teach these children
correctly, the future of America and the world itself promises only
positivity in all its endeavors.
Learning how to read is one of the simplest activities in a person's
education, but without it, further advancement into anything
scholastic is impossible. Years from now, I hope that the kids I have
helped through volunteering will be able to look back and comprehend
the change that reading has made in their life. 4 hours a week
doesn't seem like much time at all, but I believe it will make an
immense difference in the outcome of their successes. Volunteering
for these kids gave teaching a deeper meaning, compassion a stronger
feeling, and life a little more worth living.