Name: Nikki Bouldin
From: Vero Beach, FL
Grade: High School Junior
School: Vero Beach High School
Votes: 0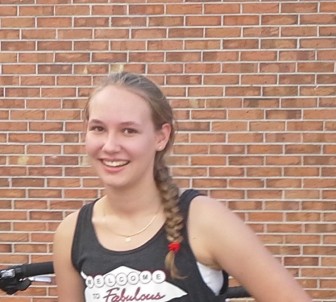 I sat at the table watching all the people talking together and
ignoring my presence. No one knew my name, and I got the feeling that
everyone thought I was just a typical teen good for nothing. I had
finished my duties, so I left the busy room to enter a quiet area.
Inside the room were two women working on setting up a board for the
next day. I asked if they needed help, and for the first time someone
said yes. This stranger trusted me enough to help despite the fact
that she didn't know me. The entire rest of the week she came to me
asking for assistance and gave me larger tasks to do rather than just
putting out water bottles or putting pencils into boxes, which were
my usual jobs. At the end of the week, a colleague of hers told me
how much she appreciated my help and how she could not have
accomplished what she did without me.
I was volunteering every day for eight hours at a workshop for teachers
to help them learn how to teach struggling students how to read.
Every year, starting my freshman year, I would help The Learning
Alliance, an organization devoted to increasing literacy in schools.
Normally I was in charge of basic tasks such as handing out name
tags. Over the three years I had contributed over one hundred hours
towards their mission, but this time something was different. I felt
important and was recognized for all my help. During the workshop the
teachers created artwork, and I helped the leading artist organize
her materials and help teachers finish their masterpieces. Teachers
would come up to me at the very end and thank me, something that had
never happened in the past three years. I was satisfied to know that
I was beneficial rather than a hindrance.
That week changed my outlook on volunteering. Before the experience, I
didn't think that my responsibilities made any difference, but I
was wrong. For the first time I felt like I was part of the team
effort. I learned that no matter how small of a part you have in a
larger goal, that part is important.
I do not have an interest in becoming an educator or teaching students
how to read, but the lessons I learned volunteering for The Learning
Alliance will transfer to my prospective career. I hope to one day
become a researcher and develop new medicines to combat infectious
diseases. From volunteering, I learned the importance of being part
of a team. It truly requires a team effort to accomplish anything. A
team works like a machine; if one part doesn't work, then the
entire machine will fail.
Although the specific activities I performed did not attribute to making a
difference, the organization that I volunteered for will. They will
improve the literacy rate of my home town and hopefully other school
districts, and I know they are committed to making a difference.