Name: Paula Hannelore Stevens
From: Lansing, Michigan
Grade: 12
School: University of Findlay
Votes: 43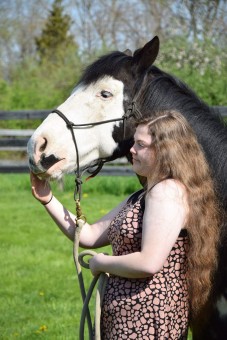 Taking
the DIS out of Disability….

I have loved horses ever since I can remember, but growing up in the
city, I never had access to them. Then I discovered the Beekman
Therapeutic Riding Center, a stable that teaches anyone and everyone
how to ride. They share forty acres with the Beekman School, a place
for children and adults with disabilities. The students there range
in age from pre-school up to twenty-six years of age when they
graduate. Beekman is a last resort for anybody with physical, mental,
emotional and behavioral challenges, so that they can attend school
in a safe and calm environment.
I worked at Beekman twice a week from September through May, and six days a week
from June through August. My shifts ranged anywhere from four to
twelve hours depending on our workload. As a volunteer my
responsibilities included the following: cleaning paddocks and
stalls, feeding the horses and ponies, preparing them for riding
lessons, leading the horses and ponies during lessons, and retrieving
students from the school and dropping them off back at the school. I
did anything and everything they asked me to do. My love for the
stable and desire to be helpful became my biggest challenge. I was
doing too much manual labor and suffering physically. I didn't want
to reduce my workload because I enjoyed doing all the work, but
eventually I had no choice. I finally reduced the amount of hours and
days I spent at the stable.
The most satisfying part of volunteering at the stable were the smiles on our
student's faces. Our students had a variety of disabilities ranging
from emotional to physical to behavioral and even mental
disabilities. I worked with the students with emotional and
behavioral disabilities. The emotional disabilities ranged from
depression to fear to anger, and the behavioral disabilities
consisted of physically violent outbursts aimed at me and the other
volunteers. While I was exposed to students of all ages, I worked
mainly with the older students as we got along better. Nothing was
better than seeing that one fearful student conquer her fear and
ride, or the student with anger issues relax and have fun around the
horses.
Volunteering at Beekman I discovered a lot. The biggest thing I discovered in
volunteering at the Beekman Center, is that everyone has their own
unique disability. For me, it's my mild dyslexia and perfectionism.
My dyslexia only shows up occasionally, but my perfectionism is here
all day every day. When I can't get something on the first try I
become frustrated with myself. It's something I've struggled with
my whole life. Everyone has a disability. If people judged each other
based off of their disabilities, then there would be a lot of
disappointed people out there.