Name: Abigail Wieser
From: Rushford, Minnesota
Grade: High School Junior
School: Rushford- Peterson High School
Votes: 0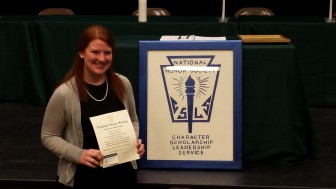 I have always loved helping others, whether it be in my church, in my school, or in my
community; I enjoy helping others. One area that I have volunteered a
lot of my time in is in camps my school puts on for the children in
our community, such as our basketball camp. I love the game of
basketball and I love teaching others about a sport I love. Every
year during the first week of summer, this event takes place. I have
volunteered to help with this camp for the past three years.The camp
is four days and there are three sessions: one for all children in
preschool through kindergarten, one for girls in second through fifth
grade, and one for boys in second through fifth grade. Each session
lasts about an hour.
During this camp, I am responsible for many things. The two most important things that I
am responsible for are teaching the children different skills and
making sure that they have fun while doing it. We split the camp up
into different stations that each teach a different skill. These
stations are: passing, shooting lay-ups, shooting free throws,
dribbling while moving, stationary dribbling, ball handling, and
defense. I usually conduct the passing station.
Just like everything else, it is can be both challenging and satisfying
when helping with this camp. The challenges that I face are children
not getting along, children not listening, trying to come up with
different things to do if we have extra time, and adjusting how to
teach the children based on their age and skill levels. These
challenges make may make it hard, but it is also very satisfying when
I see that the children are succeeding and having fun while playing
basketball. I have always loved the game of basketball and it is very
rewarding to see children love it as much as I do.
I have learned many things in the three years that I have helped with
this camp. Some things that I have learned are how to teach children
a sport, how to adjust skills for different ages, and how to help
others. The most important thing that I have learned is that
volunteering can be fun when you find the right thing to help with.