Name: Valentina Marina Velasquez
From: Moraga, CA
Grade: High School Senior
School: St. Mary's College of California
Votes: 704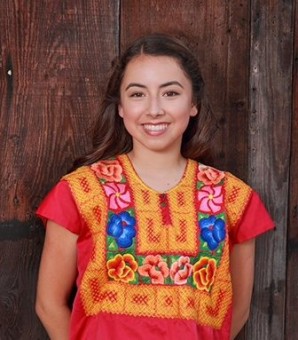 Over the past four years I have volunteered 150 hours at various
organizations. I volunteer at the Pajaro Valley Historical
Association, where I organize historical files, photos, recordings,
and make copies of historical documents. I also volunteer at Jacob's
Heart, a local non-profit agency that supports youth with cancer and
their families. I create hand-made cards for children with cancer to
keep their spirits up. Finally, I volunteer at a local after school
program. I mentor students enrolled in the Mathematics Engineering
Science Achievement Program. I support students as they make bridges
out of every day objects in order to compete against other local
schools.
However, volunteering with the non-profit organization, Get on the Bus (GOTB),
had the greatest impact on me. GOTB gives children an opportunity to
visit their incarcerated parent. I chose to volunteer for this
organization because I believe children of incarcerated parents
should not have to suffer the consequences of their parent. A
majority of them only see their parent once a year, with the
assistance of GOTB. Not being able to see one's
parent at a young age has a negative effect emotionally and
psychologically. It never occurred to me that a child of an
incarcerated parent rarely has the opportunity to visit their parent
in prison due to various obstacles. During my Junior year of high
school I learned about GOTB's mission, and felt compelled to help
in one way or another.
Over the next two years I organized a Teddy Bear Drive at my high school; which
eventually grew to involve our local parish. Students were
encouraged to donate brand new teddy bears to GOTB. These bears hold
a special meaning for the child because they normally do not receive
gifts from their incarcerated parent. The bear also serves as a
special reminder of their visit. In order to advertise the Teddy
Bear Drive I spoke at our all school assembly; I explained GOTB's
mission and the purpose of their donation.
The biggest challenge I faced while volunteering with GOTB was getting out of my comfort zone. I do not necessarily enjoy speaking in front
of large crowds, but I had to face this fear if I wished to educate
others on this topic. After
this experience I gained more confidence with public speaking. The
Teddy Bear Drive gave my high school an opportunity to come together
as a community. Each student was given the chance to take part in
the Teddy Bear Drive to help brighten a child's day. Not only did
it give them an opportunity to help, it also made many students
realize the difficulties children of incarcerated parents face.
My various volunteer opportunities allowed me to expand my knowledge in
certain areas and give back to my community. I am currently unsure
of what future career I wish to pursue. I do know that whatever path
I choose, I plan to associate it with giving back to my community
that has helped shaped who I am today.