Name: Natasha Schlaffer
From: Simi Valley, CA
Grade: High School Senior
School: Santa Susana High School
Votes: 527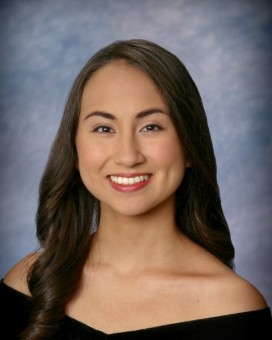 The moment I stepped under the hot stage lights for the first time, the
proscenium overhead, and anticipation building in my stomach, I knew
that I was hooked on theatre. I loved the intellectual challenge of
delving into a script and analyzing the characters and the meaning of
the playwright's words. I loved being in the moment and feeding off
the energy of a live audience. I loved the kind and intelligent
individuals who surrounded me every time I step into a theatre. And I
knew, above all, that my greatest desire was to share this love of
theatre and do all that I could to ensure that other students had the
ability to receive a quality theatre education, too.
The opportunity to act on this desire arose through a position within
International Thespian Society (ITS), an honorary organization for
theatre and technical theatre students. I was overjoyed to be elected
Chair of the International Thespian Officers, and for the past year
have been serving as the top student leader within the organization,
alongside five teammates. As ITO Chair, I have served 40 hours a week
and traveled to 12 states and 32,470 miles to promote ITS programs,
teach student leadership and advocacy workshops, and advocate for
arts education in schools across the nation.
Dedicating so much time and energy to my position while being a full-time high
school student with a heavy AP course load wasn't always easy, and
at times I had trouble balancing my volunteerism with my schoolwork
and personal life. But every time I stepped into my role as ITO Chair
and taught a workshop, I saw students gaining confidence in their
abilities and knew that my passion was paying off. One of the most
powerful moments I experienced was when a young man pulled me aside
after my advocacy workshop and thanked me for making him feel
empowered to do something about the state of arts education in his
community. Afterwards, whenever I wondered if I was truly making a
difference, I thought of him and felt that if I could make an impact
in one student's life it would all have been worth it.
I am beyond excited to be attending Penn State at University Park next
year to earn my B.F.A. in Acting and my minor in Arts
Entrepreneurship; additionally, I do not plan on leaving my days of
volunteering and leadership behind me. To me, forward-looking means
to be in favor of progress and innovation. One project we undertook
was Theatre In Our Schools (TIOS), a previously abandoned month-long
advocacy campaign dedicated to raising public awareness of the need
for more access to quality theatre education in schools. We
demonstrated that we were forward-looking by making the campaign
relevant to today's audience; now TIOS will be celebrated annually
in schools across the nation. TIOS will be my legacy, and the project
which brings about the change I wished to foster from the very
beginning: sharing the love of theatre through theatre education.