Name: Kai Skinner
From: Titusville, PA
Grade: Junior, Senior in 2016-2017
School: Titusville High School
Votes: 0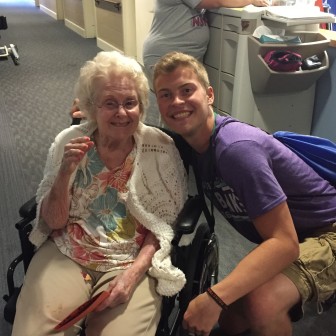 Value
of Volunteering
Volunteering is one of the greatest gifts that one can give, not only to others,
but to themselves as well. Volunteering is something that I am very
passionate about, I became involved at an early age, joining clubs,
and taking other opportunities to serve my community. As I have grown
up I have taken on bigger tasks, organizing my own service, and
taking initiative to inspire others to volunteer some of their time.
I feel that everyone should volunteer at some point in their lives.
The joy that simple tasks can bring to the community is a feeling
that is truly indescribable; in my opinion there is not a better
feeling than helping someone who is having a rough day, or helping
someone who is struggling with a certain task, perhaps just giving
back to the community in any way possible. The community benefits
tremendously from every little task that you do, as little as it may
be, someone will always notice.

One of my favorite volunteering experiences came this past summer at a
senior living center. I was taking part in a leadership conference
when I saw two elderly women walking around the campus we were
stationed at. I decided to go up to these two women, just planning to
say hello, and hopefully make their day. Through this brief
interaction I learned that they were part of a senior center just up
the road, and then an idea sprung into my head. I got a few friends
on board and everything fell into place. I organized a time during
this conference to take a few hours and visit the senior home. Not
knowing how others would receive this idea I was nervous, but many
jumped on board! By the next morning I had collected roughly 70 cards
to distribute, and about 20 others visited the home with me later
that day. We NEVER heard any negative feedback and everyone raved
about the individuals and the idea of visiting. I know that many
connections were made throughout this opportunity; my picture
attached to this essay is one of the connections I made with a
fabulous woman.
My focus was how volunteerism is valued. It is obvious how others are
affected by volunteering, but how are you? Aside from feeling good
about yourself volunteering has been proven to lead to happier lives,
boost your health, and many other positive attributes. As I move
forward in life, I intend to continue my volunteering, and hopefully
inspire others to join me in spreading the volunteer spirt. I feel
that my volunteering has positively made a difference, and if
everyone could take a little bit of time out of their lives to give
back, it would go a long way to making the world a better place. And
always remember, "Wherever you turn, someone will need you. Even if
it's a little thing, do something for which there is no pay, but
the privilege of doing it." –Albert Schweitzer