Name: Justin Krizenesky
From: Appleton, Wisconsin
Grade: 12th grade
School: University of Wisconsin- Green Bay
Votes: 0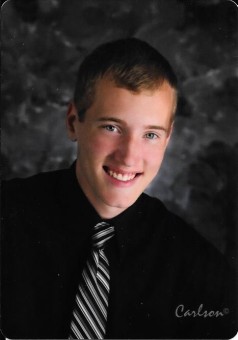 I am involved in community service on many fronts, and will do so as long as I am
physically able. My parents raised me with the belief that you should
always strive to leave the world a better place than you found it. I
love working hard in my community to help others, and I am lucky to
be able to do so for a number of organizations. I usually do not
volunteer on a week to week basis, but rather when opportunity
presents itself for my favorite groups.
I have been a Team Leader in our local Great Strides Walk to Cure Cystic Fibrosis
since third grade. In 2014, I was the keynote speaker, addressing
over 300 participants about living with CF. My team raises over
$10,000 annually. I recruit walkers, encourage my team to raise
money, answer questions, and help people register. I am a proud
member of the CF walk because through my own CF, I can inspire and
help others. I enjoy actively engaging in the fight to cure this
disease.
In my church's youth group, I visit nursing homes so residents know they aren't
forgotten, prepare care packages for college students, and lead
activities at "Trunk or Treat" so kids have a safe place to
celebrate Halloween. I have distributed church information to
neighborhood residents and collected canned food for St. Joseph's
Food Bank. I am the Section Leader for our annual Spaghetti Dinner.
As such, I train first-time workers, answer questions, and assist
younger workers on my service team. I served as the High School Youth
representative at a planning meeting to determine the youth group's
future direction and projects. Being part of youth group reminds me
there are many people in need and many ways to help them.
As a National Honor Society member inducted my Sophomore year, I perform monthly
community service activities. Along with volunteering, I work hard in
NHS to make the community better as a whole through our vast outreach
and influence, helping kids realize education is the most important
tool with which they can arm themselves for future success.
I am a charter member of Kimberly's Venture Crew, where I participate in a variety
of service projects. I help at our sponsor church's annual rummage
sale, carrying items to vehicles and helping the checkout lines move
faster. The church donates meeting space for our Crew, so it feels
good to help them in return. I also collect donations throughout the
neighborhood for an annual food drive. One of my favorite events was
making a meal for Harbour House residents, which made me happy
because I was helping people who couldn't always help themselves.
As a cross country runner, I support activities sponsored by the Kimberly Area
Running Club. I volunteer at the Fox Cities Marathon, Chickenfest,
and Paperfest. Giving my time helps me thank the KARC for its support
of our cross country team.
I also volunteer as a Sunday School teaching assistant. My role in the classroom is to
manage the kids, and help them with activities to make sure they get
the best experience possible. You never know which kids will be moved
by that hour we spend with them, and have a positive outlook because
of it.
The biggest challenge I have had volunteering is when you are working to help
someone else, and realize that you wish you could do more to help
individual people, instead of helping a group in need. I get immense
satisfaction by finishing a volunteering job, and looking at whatever
work we have done, and being proud of my contributions, however big
or small they were. Finally, I have learned that there are of course
always going to be people more fortunate than myself, but there are
also people much less fortunate, and those people need us. And I can
help them! All I need is the drive to want to succeed and make a
difference.
In 20 years, when I come back to Appleton Wisconsin, I hope my contributions to the
community are great, and viewed by the community as beneficial, but I
hope I am not noticed or rewarded for them. I know this may sound
strange, but I don't want to be a hero for my contributions. I want
to 'fly under the radar' and reward people, not myself. However,
I hope to make a difference for a long time to come.