Name: Deborah Brown
From: Houston, TX
Grade: 11th
School: Robert M. Beren Academy High School
Votes: 0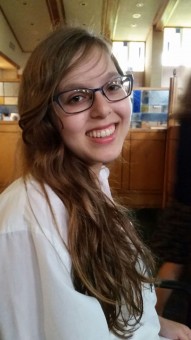 Why
I Volunteer
By
Deborah Brown
Volunteering has always been a large part of my life. My parents met while
volunteering at a homeless shelter, and they have helped me volunteer
for many different causes, such as celebrating holidays with seniors
in an assisted-living home, donating food from my Bat Mitzvah to
those in need, and tutorin­­­g elementary school students
struggling in certain subjects.

But I don't just volunteer because it's something I have done my whole life. I
volunteer with Yachad, an inclusive organization for children and
teenagers with special needs in the Jewish community, because I feel
that I am making a difference in people's lives. When I come to a
Yachad event and see the smiles on everyone's faces, I know that my
efforts absolutely pay off. I talk to my friends at Yachad and hear
how excited they are to see me, and I know that volunteering is so
simple but so impactful.
I became a member of the Yachad Teen Board this past year, so in
addition to hanging out with my friends at monthly events, I also
plan and prepare every part of those events. I spend my lunch hours
during the school year with the Teen Board, coming up with creative
themes, games, snacks, decorations, and more. I shop for the
materials we need, and always arrive early to each event to set up.
Additionally, I facilitate the events to make sure everyone
understands what we're doing and has fun participating. This is
easier said than done with kids who have special needs, but I try to
make sure as many people as possible have fun.
There are challenges in my volunteering, but I feel like the positive
results outweigh them. Some of the teenagers I help out with don't
enjoy talking to people and will sit quietly throughout our whole
event, but at the end they will eat the snacks that they helped make
and smile with pride. Sometimes they get confused and don't
understand a game we are playing, but a smile and a hug is all it
takes to turn that confusion into enthusiasm. Seeing their smiles is
all I need to feel satisfied as a volunteer. I have learned patience
and openness from my volunteering.
In the future, I don't see myself in a career of caretaking or special
needs work, but I do know that I will never stop including people who
have special needs. I might be a lawyer or journalist or
businesswoman, but I will always make sure people with special needs
know that they're important to me. That is what I hope to foster in
the world through my volunteering — I want everyone I meet to know
that they are important and amazing and can find a friend in me. I
hope that the kids and teens who I work with now will always remember
that.