Name: Emma Kendziorski
From: Petoskey, MI
Grade: College Freshman
School: Franciscan University
Votes: 0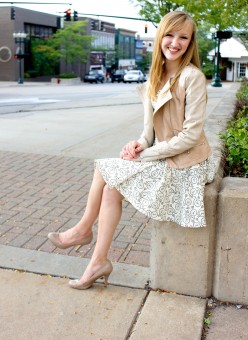 Since I was a little girl, I have been very familiar with volunteer work.
My parents raised me to volunteer my time at school, church, and in
my community. As I headed off to college, I was flooded with the
overwhelming opportunities to volunteer. It was wonderful. I ended up
joining music ministry, a group that provides music for our 20 masses
a week on campus. It ended up being about 3 hours a week for the
entire school year. I joined this group because I love music, and
wanted to share the gifts God gave me with others, to draw them to
His heart. I was responsible for knowing music and performing it. It
was a challenge working with many different voices and instruments,
especially as we all had different ideas of where we wanted to take
the music. However, it was very rewarding, and it was always
satisfactory when a mass-goer would tell me that they were drawn into
deeper prayer as they listened to me sing. I loved this volunteer
work so much that I continued it when I came home from college. I am
now working together with the music director at the National Shrine
of Cross in the Woods to sing for Sunday masses, and that ends up
being 2-3 hours a week. I absolutely love it for the same reasons I
did at school. I am hoping to continue this ministry as I return to
Franciscan University in August.

I am also a volunteer for Petoskey Color Guard, the guard for my
hometown high school marching band. As an alumnus of this program, it
is very near and dear to my heart. I graduated in the Class of 2015
and served as the color guard captain my senior year. I now work 2
hours a week aiding in teaching the guard as well as choreographing
dance work. It can be challenging working with moody teenage girls,
especially ones with no dance experience, however, it is rewarding
when they finally understand a flag or dance move. Seeing the smile
on their face as you congratulate them for nailing a movement is
absolutely wonderful. I also get to do something that I love… it
can't get any better than that!
Looking at the future, I can see my activities as forward looking, because I
hope to continue to be involved in them. To me, "forward looking"
means how something fits into the future. As I volunteer, the change
I wish to foster in the world is to empower people to solve their
problems by acknowledging and using their strengths, while aiding
them in spiritual and emotional growth, while caring for the
well-being of the person as a whole. If I were to come back in the
future, I would hope that I made a difference by encouraging
individuals to believe in themselves! I hope that I am giving people
confidence and helping them find Christ in themselves and in others.