Name: Nia Nicole Skinner-Miller
From: beecher, Michigan
Grade: Junior
School: Mott Middle College
Votes: 0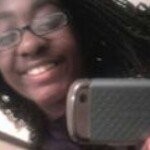 Volunteer
Lover
I'm Nia Skinner.I am a seventeen year old senior at Mott Middle College who
is applying to be a recipient of the Youth Forward Scholarship. I
believe I qualify for this scholarship because of my passion for
volunteering. This scholarship will benefit me by giving me the
opportunity to continue what I love while I pursue a higher
education. Currently, I volunteer at three consistent
places consecutively with Hurley Medical Center, Edible Flint and at
a local business, Tumbling with Mrs.J. These organizations have a
common goal of showing humility to people.
I started volunteering for requirements at the end of the seventh grade, but my idea of
volunteering changed when I chose where I wanted to volunteer.I chose
Hurley Medical Center because I really wanted to see the mechanics of
the hospital while doing small acts of kindness.I chose Edible Flint
because I wanted to learn how to learn how to garden.Yet, the biggest
take away is getting the chance to share and connect with people. I
chose to volunteer for a small business because I like teaching kids
how to tumble. Collectively, I have at least volunteered 1000 hours.
As a volunteer,I have various responsibilities. A Candy Striper for
Hurley Medical Center keeps the floor clean, sends messages from the
nurses to the patients and stocks medical supplies. As a gardener for
Edible Flint, I plant, grow, harvest and prune crops. Also, I am a Tumbling Assistant who leads warmups, teach the fundamentals of tumbling and build confidence for
the students to trust themselves to complete their passes.With all of
these responsibilities, I feel happiness every time, though
the biggest challenge is having patience, so I am
continually working on this by finding new ways of thinking and
explaining.With being a volunteer, helping is a common goal that
gives me the most satisfaction. For instance, gardening is a team
effort that works because everyone does their part and I like to be
apart of a project bigger than me.
My volunteer experience and interests are aligned with my career goal of
being a pediatrics surgeon.Collectively,I have learned patient's
care, team building, compassion, teaching and critical thinking
skills.I am interested in learning, reading,and watching social issue
documentaries. I like these things because of their plain focus on
experiences.These opportunities have allowed me to foreshadow my
future and particular activities enable me to build my own stepping
stool to get to where I want to go. Also, it plays around with this
concept of ''Forward Looking", which is thinking ten step ahead
after each decision. For instance, through my volunteer work, I want
to change the stereotype around eating enough vegetables.
I can start by invite people to come and learn how to garden so they
can see where their food comes from.In years to come, I think my
volunteer work will make a difference because of the principal of
choosing empathy over sympathy.