Name: Breanna Nicole Fain
From: Atlanta, Georgia
Grade: High School Senior
School: Chamblee Charter High School
Votes: 0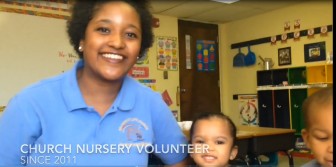 Breanna
Fain
Personal
Statement
I have an insatiable appetite and great appreciation for opportunity.
In turn, I enjoy using the opportunity I'm blessed with to help
others. I've had such a unique upbringing. I'm left handed,
African American, and I began taking advanced courses in the 4th
grade. As a high school senior, I attended college classes through a dual
enrollment program at Georgia State University.
I've learned responsibility and maturity by balancing work, sports,
and music with my course load. However, this is only the beginning!
I'm determined to become a Neonatal Doctor by studying Biomedical
Sciences/ Pre-Med at the University of Central Florida. I have a
strong desire to help others. I especially have a passion for working
with babies and children. I have volunteered at Cross Culture
Church's nursery for the past 5 years. I volunteered at Children's
Healthcare of Atlanta during the summer of 2015 and summer 2016.
Overall, it was a great learning experience. There, I had the
opportunity to visit the wonderful patients in the Neonatal &
Pediatric floors and the sight was heartbreaking. There were numerous
infants and children that were hooked up to machines by tubes and
wires. Some of them had external injuries and others had internal
illnesses. Witnessing that only motivated me to choose to pursue my
medical career in that specific field. Seeing the smiles on their
faces when we visited their rooms to play with them really warmed my
heart. Their appreciation of life and laughter despite their
conditions really inspired me. It is truly rewarding to interact with
the amazing, brave, and inspiring patients. I will eagerly take
advantage of any opportunities to shadow, assist, and observe
professionals in the medical field. At a certain point in my medical
career it is my goal to travel to different third world countries and
provide healthcare to children and infants who cannot afford it.
I believe that volunteering in Hospitals, especially Children's
Hospitals, needs more recognition in my community and in society.
Volunteering has a huge positive impact on the patients in the
pediatric hospitals. I could bring awareness of this important social
issue on UCF's campus by encouraging my fellow students to
volunteer at various children's hospitals in the Orlando area such
as Arnold Palmer Hospital for Children, Florida Hospital for
Children, and Greater Orlando Children's Miracle Network Hospitals.
Most general and pediatric hospitals have volunteer programs
specifically for college students, but most students do not take
advantage of these great opportunities. Volunteering at the hospital
is also a great way for Pre-Med students to observe the daily
operations of a hospital. Volunteers gain knowledge and experience
while making sick children happy. Overall, I have a love for
volunteering and I believe that more college & high school
students should volunteer in Children's Hospitals.
My love for learning new things has resulted in positive developments in
the areas of sports, music, and arts. I've played soccer for 8 years
and participated in cheerleading for 5 years. In my school's band,
I played the trumpet, flute, and clarinet. My expertise in
film-making has allowed me to write, direct, and edit several Public
Service Announcements, short films, music videos, and news broadcasts
through both my Broadcasting class and Film club at school.
I've experienced a great deal of loss and tragedy which has resulted in a
greater appreciation for my family and for life. My paternal
grandfather died when I was young, my maternal grandfather passed
away a few days before I was born, my maternal grandmother had
cancer, and sadly my paternal grandmother was in bad car accident
recently. My father is a U.S. army veteran and my family has
certainly taught me the importance of discipline and character. My
parents have raised me to have strong Christian morals and beliefs
which has impacted my life for the better.
Living in a predominately African American area, but going to school across
town in a very diverse setting was definitely something that I had to
get used to initially. At this school, there were students with many
different nationalities, ethnicities, and cultures. I loved the
diversity! I'm fascinated with meeting new people with different
backgrounds. Being a minority is difficult at times, but I'm proud
to embrace my African American culture and heritage.

In conclusion, receiving this scholarship would be a great financial
benefit to aid paying for my expensive out-of-state college tuition
and fees. I'm excited for the possibilities of things to come in my
future!