Name: Nivedhitha Selvaraj
From: Spring, TX
Grade: 11
School: The Woodlands High School
Votes: 6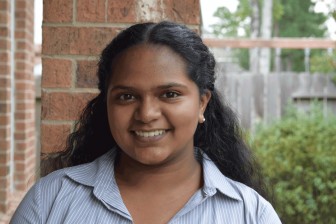 Volunteering
for Our Future: A Lifelong Commitment to Youth Education

Years ago, I organized a community garage sale with my friends, and we used
all the proceeds to buy desks and books for a school in rural India,
near where my mother grew up. When I visited the school that summer,
the students moved me with their incredible passion for learning
despite overwhelming odds and lack of amenities.
Here I was, perpetually complaining about school and homework, while these
students were grateful to learn on hard cement floor all day long.
While I watched colorful videos, they copied passages out of
textbooks. While I had air conditioning, they endured scorching India
weather. While I learned using the latest SMART board technology,
they scratched out lessons on dusty chalkboards. It all changed my
perspective on the value of my own education, and I knew I would
pursue the feeling of helping others and making a genuine difference.

Back home, I volunteered two to four hours a week at my local library,
organizing shelves and coordinating the Summer Reading Program. I
loved encouraging the children, fostering a love of reading as
profound as my own. I also spent six to twelve hours a week for three
months volunteering backstage on Set Crew for a community theater
production of Les
Misérables.

Even when my coursework increased in high school, I made time to volunteer
by joining service clubs. I tutored a middle school student
struggling with math through his sixth grade year. Although math was
difficult for him, I admired his perseverance, and I learned how
crucial a good foundation is to education. I created PowerPoints and
videos teaching science and vocabulary to ESL students. I recorded
picture books as audiobooks for blind children and orphanages. My
favorite part about that club was experiencing my favorite books from
my childhood all over again, imagining an aspiring student one day
reading along to my funny voices.
I moved states, but I kept up with volunteerism. Currently, I volunteer
two to four hours every week at my local library, assisting teen
programs, straightening shelves, and aiding patrons. In school, I
tutor my peers in math, science, and Spanish. As President of
Sociedad Honoraria Hispanica, I am always looking for new service
projects to benefit our community. For example, we have run booths at
the Children's Festival, collected canned goods for underprivileged
Latina mothers, and created Valentine's Day cards for senior
citizens. In addition, I am one of the youngest volunteers for a
nonprofit organization called Learning Ally, for which I help record
audiobooks for students with learning disabilities such as ADHD and
blindness.
Overall, I have completed over 400 service hours, mostly in the area of youth
education. Helping others overcome their hardships inspires me to get
through my own obstacles. When I look back, decades later, I know
that the most rewarding part will be helping children through school
and encouraging reading and promoting a love of learning. After all,
we are the future, and everyone deserves the opportunity of an
exceptional education.