Name: Ashlynn Miller
From: Windsor, Ontario
Grade: 12
School: Riverside Secondary School
Votes: 1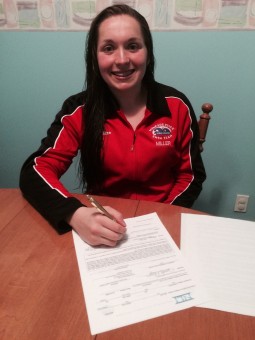 I believe that youth volunteering has given me the amazing opportunity to make a
positive impact in the lives of seniors. I have chosen to spend a lot
of my time in a local retirement home. I chose to volunteer at The
Village of Aspen Lake because it is where my mom works as a
recreation aid and I want to work in the geriatric field when I start
my career.
I have been a volunteer for over five years and have put in over 100 hours there.
As a volunteer I spend my time meeting with the neighbours, and
working for big events and neighbourhood parties. My biggest
challenge I face is to always be outgoing even though I'm shy.
Although it has been a challenge to break out of my shell but I get
the most satisfaction when I see the smiles on their faces when my
contributions have made their lives better.

I've learned that this volunteer position puts me on track with my
career goals because I hope to be a geriatric psychiatrist. I'm
happy that volunteering here has showed me that my future is bright.
Working with the senior here have showed me that I'll be working in
a career I love. I see my activities as a volunteer as "forward
looking" because I put my focus in the future and in that case I
look toward the end of the road to my career.
The change I hope to see due to my volunteering is that more youths will become active
in this field because the seniors love seeing young adults helping
them out. In order to look forward we must focus on the past that
brought us here.
If I go back I believe there would be a difference because the residents there would
remember me as someone who made them laugh and smile.