Name: Sarah Heil
From: Baltimore, Maryland
Grade: 11
School: The Catholic High School of Baltimore
Votes: 0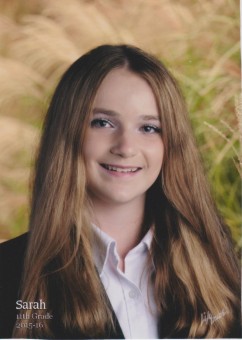 YOUTH FORWARD SCHOLARSHIP 2016
Sarah Heil
By the definition of Webster's Dictionary a volunteer is a person who freely offers
to take part in an enterprise or undertake a task. Community service
or volunteer hours are required by each school system for graduation;
therefore it is a requirement. For me volunteering has never been a
"requirement". At a very young elementary age, I helped and
volunteered with mother at her company's annual service day. We
went into communities with deteriating schools, we painted
classrooms, cleaned lockers, raked leaves and helped improved the
landscape. My mother's company then donated computers to the
school's lab and they helped install them. At the age of 5 years
old I was already seeing the importance of taking time out and doing
something in hope it would help make a difference to someone else's
life.
I have been fortunate in that I have a fulfilled life with great family, friends
and good role models. My family was not wealthy nor did we have the
extras in life that most people take for granted. My family has
raised me not to put emphasis on money and status. My parents always
put the emphasis on volunteer work and my education. My first real
volunteer work as an individual was at the Baltimore County Public
Library as a Summer Reading Program volunteer during the summer of my
7th grade. My primary responsibilities was to assist
children with registration, award stickers for completed activities,
and oversee the arts and crafts table. This role sounds like fun to
the average person, but I am an introvert, I have difficulties
speaking to people even children. On the first day, I was so scared
that someone would come up to me at the desk that I begged my mother
to stay at the library. She reluctantly agreed. She wanted to me to
step out of my comfort zone. For years I volunteered in a project
where I worked on a project that involved no human interactions. I
was becoming a young adult and my mother felt it was important for me
to learn other roles of a volunteer. Several children and their
parents came up to me asking about the program and even asked me to
help picked out books for their children, I soon become more
comfortable speaking to strangers a little each day. By the end of
the summer, I was not only speaking to people as they came up to the
desk but I was initiating conversations to help promote the program.
I continued to volunteer through the summer reading program up
through the 10th grade. I was a seasoned volunteered and
was often paired with a new volunteer to help train them. In the
three years I completed 155 hours during the 2 ½ months each summer
at the Baltimore County Public Library.
I continued to volunteer working with young children at Honeygo
Recreational Center every day from September to May assisting young
children in roller-skating lessons. I helped the children to gain
confidence and sometimes overcame their fear of falling. Today I
continue to volunteer at the center and have built long lasting
relationships with the younger children. Today they look at me as a
role model as I look at my mother. Teaching skills to children can
be an important step in their life. For example, if the child
doesn't know how to skate, they might refuse to try because they
can't do it. The solution – teach them through instructions and
modelling. Because of my patience and overcoming some of my own
learning disabilities, the instructor would often pair me with a
child with special needs. Most recently I worked with a young boy,
Ryan, who suffered with autism. At first we had some struggles, he
would simply refuse to participate. I began to learn more about
children with an autism spectrum disorder to gain a better
understanding of how I can better help Ryan. I learned that it is
common for them to have limited focus for a smaller timeframe than
the average child. The class was 45 minutes so I worked to engage
with him every 5 minutes and then we had a break for 5 minutes. I
also learned that many ASD children play in a repetitive way. I
began to repetitive skills during one class until he was able to
achieve that particular skill. I rewarded each effort with praise
regardless if he mastered the skill. In May we have our annual
recital and I have the opportunity to watch all the children perform,
when Ryan skates out and I beam with pride for challenges he has
overcome and I see him smile – that is my reward. I volunteer in
the classrooms every Saturday completing 128 hours annually.
In July 2014, I expressed an interest in a new role of volunteerism. I have spoken of
how I volunteered with young children. Again I went out of my comfort
zone and began volunteering at Oak Crest Retirement Community.
Before beginning my volunteer hours I went through intensive training
on Alzheimer and dementia. Little did I know that this training
would help me in my personal life with my grandfather recently being
diagnosed this recent year. I shared more than 300 hour of my time
assisting with activities and escorting residents in the healthcare
facility to and from weekly church services, beauty salon, dinner,
and other program activities. This task requires the volunteer to
have an understanding of working with a population with special
needs, specifically those with physical or cognitive limitations. As
a successful volunteer I have to demonstrate a great deal of patience
and compassion. The residents and staff depend on my assistance.
Caring for a persona with Alzheimer's disease can be a difficult
task and can be overwhelming at time. Each day brings new challenges
with the changing levels of ability and new patterns of behavior. I
often rely on the training supplied by Oak Crest as well as my
communication with my grandfather. Often people have difficulty
expressing thoughts and emotions; they also have trouble
understanding others. I let the person know I am listening and
trying to understand. I show that I care about what they are saying
and do not interrupt them. Sometimes they are confused or having
difficulty expressing a thought; rather than finish their thought for
them I encourage them to continue to explain their thoughts.
Please allow me to give you a little background on myself, I am entering my senior
year at Catholic High School of Baltimore applying to several
colleges including Stevenson University, Hood College, and Baltimore
County Community College with a major in Nursing. I
was born in Baltimore as a premature baby and quickly diagnosed with
external hydrocephalus and associated macrocephaly shortly after
birth. My developmental skills were monitored throughout the first
three years of life by John Hopkins's Dr. Ben Carson.  Entering
into my elementary school years, I regularly attended speech
therapy just so I could keep up with my peers; though I struggled.
As I entered into my middle school years, I was diagnosed with
phonological dyslexia and Attention Deficit Disorder by Kennedy
Krieger Institute. My parents were told that I would be
lucky to make it to my high school graduation let alone ever going to
college.  I am blessed that I had parents that believed that God
had a plan for their "miracle child" and did everything in
their power to help me be successful in my education.  My
parents took loans to enroll me in private tutors that specialized in
my learning difference.  We traveled three to four nights a week
to the sessions in the next county.   As a student at The
Catholic High School of Baltimore I am enrolled in the Arch Angel
Program which helps me to continue to overcome my learning
disabilities.  I have overcome many challenges and am very proud
to say I am a member of the TCHS family.  My current career GPA
is 3.35. 
The definition according to Webster's dictionary is "a personal
trained to care for the sick or infirmed, especially in a hospital."
Based on the definition it seems like a simple task. We all care
for someone during our lives; but to me nursing is more than that. A
nurse cares for people through illness, pain, loss, birth, growth and
aging however they also promote health and educate the public. When
I was first diagnosed my parents as well as several of my educators
were not familiar with my learning disability. As a child, it was my
parents that educated me on my condition. As a young adult, I took
the role of educating my educators and guidance counselors on my
condition and provided recommendations that would improve my quality
of education.
I believe that all possess all the traits desirable in an effective
nurse. I possess the qualities of a person being open, strong,
determined, thoughtful and caring. All throughout my life, I have
been cared for as a child and as a young adult. So many people have
influenced me to be a better person to learn how to care for others.

Dr. Ben Carson taught me the warmth of doctor as he cared for me as
patient. Since I was a patient of Dr. Carson's at such a young
age, I rely on the memos written and photos taken. You can "see"
the actual genuine good nature of how a physician cares for a patient
as though they were your own child. I hear how my parents talked
about how he communicated difficult topics with a strong but
empathetic voice.
As a patient of Kennedy Krieger Institute I see the all types of
patients with severe visible signs of disability to an individual
like myself that there are no visible signs of any disability. Each
member of the staff begins with open communication to not only the
parent but the child. They treat the child as an adult forming an
open and inviting communication style.

And then there are my parents that refused to give up on their only child
even when science said "don't save your money for a college fund,
she will be lucky to graduate from high school." Both of my
parents were unable to attend college due to financial restrictions,
my mother struggled in her career growth because she did not have a
degree. She worked her way through mentoring from each colleague and
manager she encountered. Today she is an HRIS Manager at Year Up, a
non-profit organization that provides low-income young adults with a
combination of hands-on skill development, college credits, corporate
internships and support. My parents how always valued a college
degree and look forward to seeing me cross the stage as a college
graduate, the first college graduate of my family. But more
importantly, my parents want me to pursue a career that I will enjoy
and be passionate about. To me, that career choice has and always
will be nursing.
I truly believe that I have overcome all of my own learning
difficulties to help others and educate others. My desire would be
to work in nursing pediatric with an emphasis on children with
special needs. I believe that education of a disease is the key to
helping plan out a child's success in life.