Name: Anna Marie Wood
From: Colorado Springs, Colorado
Grade: Freshman
School: Colorado Technical University
Votes: 8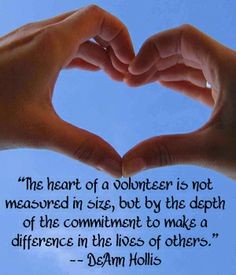 Volunteering
is Very Important in our Society
I have volunteered for many years doing many different things. Not
because I felt I needed to feel needed or wanted but because others
do not always have time or energy to give the way I have felt I could
in the past. I have volunteered with the military while my husband
was on active duty, I have volunteered my time to helping children
feel loved and wanted while in foster care, and I currently make up
gallon size baggies for the homeless that I carry in my vehicle to
hand out to people I see in need. Volunteering means so much to so
many people but let me explain to you what it means to me and the
things I have done for my military community and my civilian
community.
When I volunteered with the military, many spouses would call or come to
me when they were alone and had no family around to turn to. I would
make phone calls, help with childcare, be a shoulder to cry on when
they needed to cry. My home was always open to any situation that
would come my way for my military family. Sometimes, I was all they
had. My biggest challenge as support for these families was when
their loved on would be gone on a deployment and there was a tragic
accident where they were at. Late nights with spouses who didn't
know if they would see their loved one again was the worst. I would
cry with them because I knew exactly how they felt and all I could do
was pray everything would be alright.
There were a few times where I would have to help a spouse get back home
because of a death or help someone calm down because rumors are
always flying around about soldiers dying. It is really hard when you
do not hear a word for weeks.
I did foster care for about a year and a half before adopting 2
wonderful children. I had three sets of two children in my home at
different times. They all needed a very large amount of love,
patience and stability. My home was a place of comfort for many
children other than the ones I fostered. I babysat foster children
also through the state of Colorado. No child was ever turned away
hungry, dirty or unwanted. It was a very hard job to do but it was
never about me, it was always about them.
The baggies I makeup have a bottle of water, granola bar, soap, wash
cloth, shampoo, conditioner, toothbrush, toothpaste, cookies and tea
in them. Just because you do not have a home does not mean you do not
deserve to have what you need. I volunteer because it helps society
in more ways than one but at least I can do my part by helping at
least a few people along the way.
Anna
Wood