Name: Julisamar Cotto
From: davenport, Florida
Grade: junior
School: Liberty High School
Votes: 0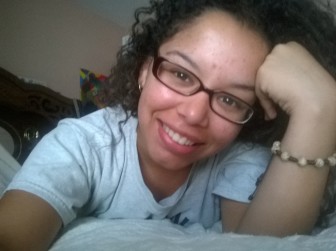 Volunteerism is one of the most crucial parts in keeping a community
organized and together. I've volunteered at my church youth group,
at my school and at a non-profit kids resort in Kissimmee known as
"Give kids the world". In total, I'd say I volunteer
about 3-5 hours a month, at spontaneous times when there is an event
or when I go to places such as Solivita.
Not only is volunteering a positive thing I can do to impact other
people, but I grow as well. Volunteering at the 5k in my school, I've
had responsibilities such as giving everyone their numbers and tags
and making sure everyone is safe and having fun. When I see other
people smiling, or when I answer someone's question correctly, when
I assist somebody I get a sense of righteousness, a sense of
satisfaction. It's definitely not the hours on the paper, it's
really the part where I walk out of that building or that place
feeling like I really made someone's day. My biggest challenge as a
volunteer is time management, just being able to mix school work,
sports, family time and volunteering. However, keeping an agenda
really helps to alleviate my mind and helps me to organize what I
have to do.
Volunteering has taught me so much because I use to be very quiet
believe it or not. I was shy, I wasn't well rounded, and I didn't
want to join anything or do anything. But when I got accepted into a
club at my school called Ambassadors they taught me that by doing
service not only do I impact others I impact myself. Because of
volunteering and doing everything I can to give back to my community,
I'm more social, mature, and responsible. Volunteerism creates a
positive vibe in a community, a sense of teamwork and compassion.
The activities that I do around the community are "forward looking",
in the sense that I inspire others to volunteer as well, so in the
future we have a group of powerful and help seeking youth. "Forward
looking" to me means that every activity I do today will affect not
on only me but my community and the youth of tomorrow. We live in a
world where teenagers would much rather stay home or be on their
phones 24/7 than go outside, volunteer and expand their horizons. I
feel like by volunteering I persuade other teens to do so as well,
I'd hope that 20 years later, more and more youth decide to
volunteer in their community, then to go out in the streets and do
illegal things and end up sending themselves to jail. Of course, my
activities will help in the long run, if I can persuade others to
spend time volunteering and fall in love with it, maybe crime rates
can go down, the amount of teens in prison might go down, it's a
matter of working hard and achieving success in everything I do.