Name: Janeane Taylor
From: Edison, New Jersey
Grade: Junior
School: John P. Stevens High School
Votes: 0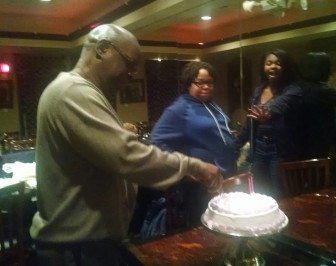 Volunteerism is a very powerful form of action because not only does it show your
appreciation for the community but also how you are willing to help.
What volunteering means to me is you are giving back to the
community, You may also volunteer by planting a garden or cleaning
the environment, this helps the neighborhood go greener. There are a
variety of things that you can do to volunteer, such as; Soup
kitchen, Cleaning the park near your house, and many more.
Volunteering at the soup kitchen was one of the things I enjoyed
doing. Just knowing that I was helping someone get a hot, a
nutritional meal that they may not have had in long time, just warmed
my heart. This also made me realize how blessed I am to have food on
my table and a roof over my head. There was a time when my mother had
trouble providing me with food on our table;  we had to rely on
groceries from food pantries to survive.  This experience of not
knowing if  we would l get a meal motivated me to help others.
Not only does volunteering include cleaning the parks and serving in a
soup kitchens, but it also includes handing out resources that will
empower the people. When I was twelve years old I joined a non profit
book club called  "Little Sistahs in the Know Inc", during
that time  I became president for the teenage group.  One
of our missions was to give back to the community by handing out
children's books in urban cities. We went to places such as; dentist
office, doctor's office, and laundromats any where children are often
running around, bored, waiting for their parents.  We thought
,what better way to help children and to encourage reading than to
place books in areas where children spend a lot of time with nothing
to do.  This was one way for the book club to just giveback. Now
when kids have nothing to do they can read a book. It's all about
giving back to the community.
Volunteering can also be  local or a globalized effort Every September the
dance group I belong to participates in A National Day of Peace held
in Central Park, New York. The Day of Peace has been apart of our
community service for the National Liturgical Dance Ministry for over
5 years now.   This is a peaceful event in New York where
everyone can come together, no matter the race, gender, or lifestyle.
I enjoy taking part in the National Day of Peace because I like
sharing my talent of dance with others and spread joy to those
around.  Some of the globalized efforts have been to send
donations to other countries.   . T I can remember
collecting books, undergarments and sanitary products to send to our
book club pen pals in Africa, we created a wonderful friendship
through this global community service initiative.
 As you can see volunteering can go a long way. It also makes you feel
good about yourself knowing that you were able to put someone else's
needs before your own.    I never know if I would be
in need so while I have the chance I like to volunteer my time and
gifts to help someone in need, after helping each other makes the
world go around.   get a chance I will go and give back to
the community, this makes me feel good about myself.