Name: Mckenzie Biffert
From: Lakeville , Minnesota
Grade: 12th
School: Lakeville South
Votes: 0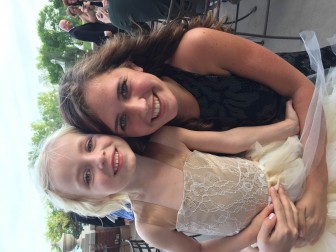 McKenzie
Biffert
July
24th, 2016
Volunteering
Essay
Volunteering:
Not a Burden, but a Blessing
Volunteering and serving have always been a huge part of my life. Growing up as a
pastor's kid I have always been surrounded with opportunities to
serve the people in my community. Even as a little girl I remember
going with my dad to the local hospital and praying for the sick and
bringing comfort to the hurting. As I got a little older I found
myself volunteering even more within the church setting. From helping
with set up for a certain event, to serving in the church choir and
leading worship at our youth group on Wednesday nights.
Along with many other areas in which I serve, I also volunteer on Sunday
mornings in the children's ministry at our church. I specifically
work with the pre-school age kids as a teacher for their class every
Sunday morning. I love working with this specific age group because
of their energy and excitement that they bring to the class. They are
like little sponges, soaking up everything you say, desiring to learn
something new every week!
Although being the teacher of the pre-school class is very fun, there are also
several responsibilities that come along with it. For one I have the
responsibility of keeping all the children safe and unharmed during
class. So preventing goose eggs and bloody knees with a bunch of
rambunctious preschoolers can be tricky some times. I also have the
responsibility of teaching the bible lesson in an effective way so
that kids can understand and remember it. I typically use activities
and games to demonstrate the story because preschoolers often get
bored sitting still and staying focused for long periods of time.
When I first started teaching this class the kids did not respect me as
their teacher and they wouldn't listen to me. I struggled with it for
a few weeks and eventually the kids came around and started seeing me
as their leader. Later I realized that when I began to play with them
and meet their needs they began to show me the respect I showed them.



I truly enjoy working with the preschoolers on Sunday mornings and
watching them flourish in their relationship with Jesus Christ at
such a young age. I love hearing all their crazy stories and seeing
their personalities develop and grow. Even though they have been
learning from me, I have also learned a lot from them. They have
inspired me to be myself and to live a life free of worry and doubt.
Those big smiling faces that greet me every Sunday encourage me and
bring me so much joy! Some people believe that volunteering is a
burden but in reality it is a blessing! I can testify to that!