Name: Olivia Koleszar
From: Lovettsville, Virginia
Grade: HS Senior
School: Northern Virginia Community College
Votes: 0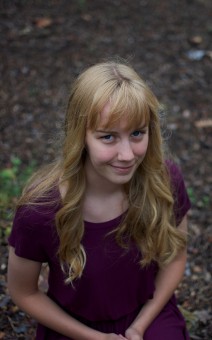 Volunteering
is My Superpower
When I first read the topic for this essay, I got excited. Ever since I
could understand volunteering, my family ingrained in me the
importance of serving the community. Because of my faith, I have
always prioritized community service and charity, and these remain
important to me even now. Not only does volunteering positively
impact society, it also benefits the volunteer, by bringing an
awareness of those around them.
Volunteering is a passion for me, since I have always loved serving in my community,
especially with children. I've enjoyed teaching my community about
our heritage with traditional dance and crafts, several hours each
week. My favorite way to volunteer is Vacation Bible School and Bible
clubs. I have spent countless hours for the past five summers on
these ministries, learning leaderships skills and getting prepared
for my career of Elementary School Teacher. In this age of busy
parents and performance-oriented activity, I seek to show kids that
they are unique and can do anything they set their mind to. By
putting in time with young kids at an impressionable age, I hope to
give them knowledge and confidence and make a difference in each of
their lives.
A vital component of a healthy society, volunteer work encourages a flourishing
community. In "The Information Age", it draws people together by
location, fostering quality human interaction. When done with
humility and delicacy, volunteering for charity can draw together
volunteers and the people benefitted as well as draw together the
diverse people thrown together as they volunteer. Taking the time to
give to others and be selfless benefits the volunteers themselves,
since a healthy lifestyle involves being active and giving. I have
learned valuable communication skills that will aid me in life and my
future career.
Finally, volunteerism is cemented in my personality by the fact that my faith
demands it. According to my beliefs, one of humankind's purposes on
earth is to love the people of the world. Since my faith will always
remain important to me, I have no doubt that my resolve to serve
those around me will continue to be strong. Usually involved in many
services to both the church and the larger community, I don't
necessarily seek to convert the non-Christian by my actions, but with
simple honesty, to show them the love of God. My commitment to
volunteerism is made solid by my faith.
Volunteerism is important to me. I have always loved giving back to the community so
it quite naturally never seemed like a chore or a grab for attention
or fulfillment. Serving others gives me an opportunity to put my
faith into action.The impact of volunteerism on communities cannot be
ignored, not only for those served but also for volunteers, since it
works against our culture of isolation and apathy. The practice of
volunteering shows that small actions add up to important change, and
that anyone can make a tangible difference. So how will you get
involved?