Name: Cassidy Ucherek
From: Edmond, Oklahoma
Grade: High school senior/college freshman
School: University of Central Oklahoma
Votes: 0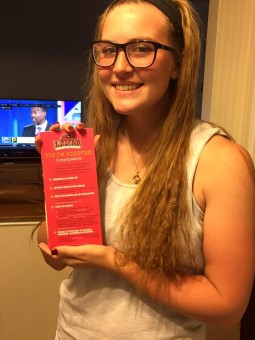 As the oldest of four children, I feel like I have been
"volunteering" since I was twelve years old. However, once I
began high school, the volunteering took on a different light to me.
I have had the opportunity every summer to work with elementary
school and middle school aged children at our school district's
Exploration Academy. Although, my first reaction to volunteering was
dread in having to wake up early during summer break, I am so happy
that I gained this experience.
It was nice to work with other children, besides my sister and two brothers, as well
as to see the teachers in a different light. To see the dedication
the teachers make over their summer breaks helped me during my school
years. Seeing them as people rather than as "them" in the "us
versus them" of high school adjusted my attitude. I no longer
thought of any of my teachers as out to get me with homework or
unfair grades. I now see them as hard working and dedicated to
making students' lives better. It amazes me that any teacher can
adjust their teaching styles to the different needs of their
students. I was only used to dealing with the three different
personalities of my brothers and sister, where as they deal with
twenty or more different personalities each class period.
One teacher in particular really stands out in this regard. My varsity tennis
coach, Bill Price, has been a great positive influence to me. I was
a varsity soccer player until my senior year. I became very
disillusioned with the sport and my coach and made the very tough
decision to stop playing before my senior season. With the prompting
of my parents, I talked to Coach Price about joining the tennis team,
even though I had zero playing experience. After trying out, Coach
Price encouraged me to take lessons over the summer, saying that with
my natural ability, I should be able to pick up tennis and be
competitive. Coach Price had a strong varsity program already and
could have very easily said no, but his encouragement led me to
working very hard over the summer to improve my (non-existent) tennis
game.
When I started school my senior year, I had improved so much that Coach Price named
me the captain of the varsity tennis team. And with his coaching and
his encouragement, I was named All-District in tennis. Coach Price
always quotes the old Green Bay Packer football coach, Vince
Lombardi, and tells us that if you believe in
yourself and have the courage, the determination, the dedication, the
competitive drive and if you are willing to sacrifice the little
things in life and pay the price for the things that are worthwhile,
it can be done. I will try to use these words to improve each and
every day, paying the price to accomplish the things that mean
something to me.