Name: Meghna Thiruvazhi
From: Amherst, Massachusetts
Grade: Freshman in college
School: University of Massachusetts- Amherst
Votes: 0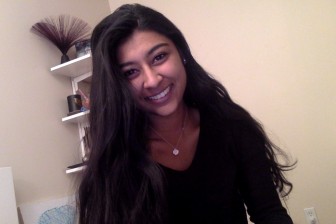 Volunteering is an integral part of who I am. Ever since I was little my parents
have always stressed the importance of helping others in need. As a
kid, I would volunteer at homeless shelters, I would donate clothes,
participate in beach clean-ups, etc. As I entered high school, I
began to gear my volunteer work towards my professional goals. I
volunteered in places that I knew would help me gain knowledge and
insight into the medical world. I've always been intrigued by
medicine and children. I have a passion for helping kids and in
medicine and felt that being a Pediatrician would fit. So I decided
to start volunteering in hospitals and doctor's offices.
Currently I am volunteering in two different places. I volunteer at the
Endoscopy department in UMASS Memorial Medical Center and I shadow a
pediatrician at Child Health Associates. On Average I volunteer for
12 hours a week. As a volunteer at the Endoscopy department, I help
make the patients' beds, stock the kitchen, refill necessary
equipment and anything else that I am asked to do. When I volunteer
at Child Health Associates, I watch over a Pediatrician and I observe
how he handles each patient and their situations.
Of course as with everything else in life, there are challenges that
come with volunteering. There have been countless times at Child
Heath Associates where I have come across kids who have struggled
with something, be it a unique disease, a severe injury, mental
problems, etc. When I see these kids struggling in person and hear
their stories it just breaks my heart. It is so sad to think that
such young people who have so much to live for are struggling daily.
When I see how rough some of these kids have it, it makes me want to
be better. As a volunteer at Child Health Associates I have seen
children battling with issues that I've only read about in class.
The challenge of seeing these kids struggling reinforces my love for
children and my passion to help them. It makes me motivated to do all
that I can to better their lives.

Though volunteering can be challenging, I still enjoy it. There is this
satisfaction I feel when I help others. Every time a boss or a
patient that I helped whole-heartedly thanks me for my help, this
wave of joy spreads throughout. It's such an amazing feeling to
know that a simple act of kindness that feels so insignificant to me
could mean the world to someone else and the happiness I get when I
realize that I was able to do that is indescribable. There was this
time at Child Health Associates, where a mom and her two kids had
come in for a physical. Her son, who was probably eight was autistic.
While his sister was getting checked, he kept being distracting and
kept talking to me about Calvin and Hobbs and how funny he thought
those stories were. I paid most of my attention to him because I felt
bad since he was so passionately discussing Calvin and Hobbs but no
one else was listening to him because they were focusing on his
sister. At the end of the checkup, the mom had asked the doctor if he
could take a picture with her kids because they really loved him. The
eight-year-old boy then looked to his mom and pointed to me and said,
"I want her to be in the picture too mommy". The mom had said
that it was fine and he gave me the biggest hug ever and the picture
was taken. When it was time for them to leave, he gave me another
huge hug and said that he had fun talking to me. As he was walking
away, he turned around and gave me a flying kiss. I will never forget
this experience. I was just overjoyed to know that a little boy was
so appreciative that I had paid attention to him for about five
minutes of his day. That's why I have chosen this volunteer and
career path. I want to be able to make a difference in someone's
life. Kindness is the best gift that a person can receive and I want
to be the person that delivers it.
When I look back ten years from now I hope to have made some type of
difference in people's lives through my volunteer activities. I
want to have either helped a patient get through a difficult time or
influenced kids to help others in need. In the end I hope to look
back knowing that I've both helped better people's lives and
helped make the world a better place. I think volunteering is an
important thing to do, and I hope that the future can be full of kids
ready to help others in need.