Name: David Gaines
From: State College, PA
Grade: College Senior
School: The Pennsylvania State University - Main Campus
Votes: 444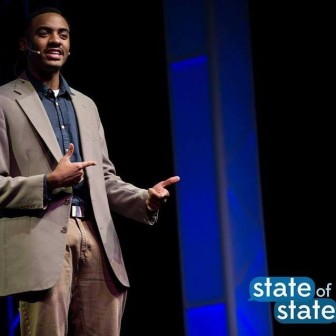 David Gaines – "Volunteerism Builds Voices"
As a kid, I borrowed my father's voice because I couldn't find mine.
He was South Philadelphia preacher with enough voice for the entire
city. People packed into pews every Sunday to hear the word of God
from his lips, and I, his namesake and unofficial doppelgänger, got all the
benefits of this idolatry. My peers respected me; the church girls
wanted to date me; and the elders would take a pinch of my cheek,
like a recipe demanded it, and exaggerate how much I resembled my
father. But his voice was too big for me. It hung over my shoulders,
flooded past my ankles, and disabled me from making my own footsteps.
When I was a Penn State freshman, volunteering taught me the truth
about my
voice.
I became heavily involved in a student organization, Penn
State Writers Organized to Represent Diverse Stories (W.O.R.D.S.),
which serves the community by providing students, especially writers,
with a therapeutic space wherein they can freely express their
stories. I invested my energy in W.O.R.D.S. because, at the time, my
voiceless, generic writing was the only thing that I had. I wanted to
inspire others to find their voices, though, subconsciously, I hoped
to find mine in the process.
I've been volunteering for W.O.R.D.S. for three years and, despite being a
student, I dedicate at least three hours of each day to growing the
organization. I help organize fundraisers, slam poetry shows, weekly
general body meetings, and I even helped send Penn State's first
nationally competing slam poetry team to an annual competition in
Austin, TX.
My biggest challenge as a volunteer has been learning how to be
cooperative within a team. I learned that my co-volunteers aren't
faceless cogs in some cold machine; they're breathing
philanthropists with unique tastes, fears and voices. The challenges
are only made worthwhile when I hear that W.O.R.D.S. helped its
members "find [themselves]", or "bring [them] out of a dark
place". From my experiences with W.O.R.D.S., I've learned that
the only things worth doing are done for other people.
For me, "forward-looking" means new and progressive; and, seeing as
W.O.R.D.S. is Penn State's only slam poetry resource, I'd say
that my activities have undoubtedly been forward-looking. We've
shifted campus culture by developing and making room for
disenfranchised voices, and this dynamic change can't be forgotten.
All I wanted was to help people be themselves and find their voices,
because then even if I don't change the world with mine, someone
else might succeed.
Now, as President of Penn State W.O.R.D.S., I've learned that your voice
isn't something you find; it's a house that you build,
meticulously, brick by brick, until it's comfortable enough for you
to reside inside. And you make renovations as you grow and experience
life, trusting that your foundation is solid enough to support
change. My foundation is strong because its concrete is made from
passion and volunteerism. In my future career as a performing artist
I know that this understanding will make me successful.